USAS – #Wales – Played on 11/21/ 2022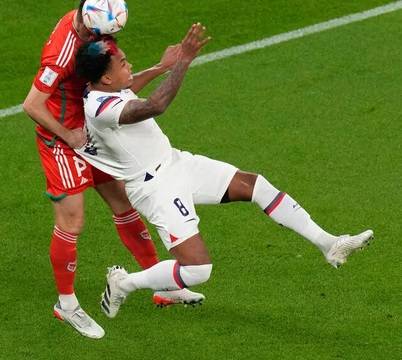 The son of the Liberian president scores.. and the Welsh star equalizes
Weah advances to America at the expense of Wales
Timothy Weah, French Lille player, son of the Liberian president and former World Player of the Year, scored
George Weah scored the first goal for the USA national team at the expense of its Welsh counterpart.
in the match that brings the two teams together at Al-Rayyan Stadium, in the first round of the group stage.
The Welsh and American teams, along with England and Iran, are in Group Two.
Weah scored the goal after a magical pass from Chelsea player Christian Pulisic
which the former Paris Saint-Germain player took advantage of, putting America ahead.
The Welsh national team managed to snatch a valuable draw (1-1) against its American rival, in the match that brought them together this evening
Monday, at Al-Rayyan Stadium, in the first round of the group stage in the 2022 World Cup.
The draw of the International Federation of Football Associations, FIFA
placed Wales, along with America, Iran and England, in Group Two in the World Cup.
And the American team quickly began to take possession of the ball, with pressure on the Welsh defenses
which almost made mistakes on more than one occasion, especially with Josh Sargeant's ball that hit the crossbar in the 10th minute.
The US duo, Dest and McKinney, received two yellow cards in the 11th and 13th minutes.
The situation remains unchanged about USA's control of the ball, after 25 minutes
with fellow player Christian Pulisic looking closer than ever to scoring America's first World Cup goal.
America's control, directed by Timothy Weah, and the first goal in the 36th minute, after a magic pass from Pulisic.
In the second half, after 10 minutes had passed
control tended to the Welsh national team, and began to complete a large number of successive correct passes
in search of the equalizing goal, with caution, in light of the speed of the American players.
The Welsh team got a penalty kick in the 81st minute, after blocking Gareth Bale, who managed to translate it into the Welsh equalizer against America.
The American and Welsh teams exchanged offensive attempts in search of the deadly winning goal
but the result remained the same until Qatari referee Abdul Rahman Al Jassim blew the final whistle.
The England national team leads the second group standings, with 3 points, ahead of Wales and the United States of America
By two points, while Iran remains without points.