Argentina 1 – 0 Ecuador: Watch Match Highlights and Joyful Moments ⚽📺🎉
Argentina Kicks Off Journey to 2026 World Cup with Narrow Victory Over Ecuador
The match, held at the Monumental Stadium, witnessed Messi's exceptional skills as he netted the only goal of the game in the 78th minute through a spectacular free-kick. This pivotal moment showcased Messi's unmatched talent and ability to rise to the occasion when his team needed it the most. The victory not only marked a promising beginning to Argentina's World Cup qualifiers but also emphasized Messi's invaluable role as a leader and goal-scorer for his national team.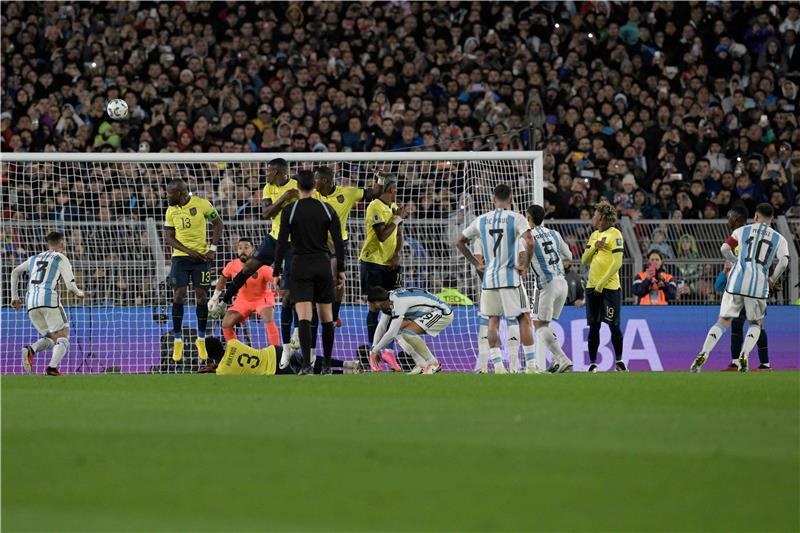 Dominating the Midfield
Argentina's dominance in the match was evident from the start, thanks to the relentless efforts of their midfield trio: Mac Allister, Rodrigo De Paul, and Enzo Fernandez. They pressured Ecuador, preventing them from gaining control of the midfield.
However, despite their high-pressure tactics, the world champions faced challenging counterattacks from Ecuador's Enner Valencia and Plata. Nevertheless, Emiliano Martinez, Argentina's goalkeeper, remained largely untested.
Messi's Brilliance
Argentina came close to scoring in the first half, with Messi taking a shot that was saved by the Ecuadorian goalkeeper. The woodwork denied Lautaro Martinez in injury time.
In the second half, Argentina showed even more determination to secure the win. They came close to scoring with two dangerous opportunities, one from Tagliafico and another from Messi himself.
The Winning Moment
The decisive moment came in the dying minutes of the match when Messi expertly curled a free-kick into the net, leaving Ecuador's goalkeeper, Hernan Galindez, helpless and astonished.
Argentina had opportunities to add a second goal, but Angel Di Maria missed a clear chance shortly after coming on as a substitute. Rodrigo De Paul also failed to capitalize on a one-on-one situation with the goalkeeper. Substitutes Palacios and Julian Alvarez left their mark as well.
In the 88th minute, Lionel Scaloni, Argentina's coach, decided to substitute Messi, who left the field to applause from the crowd.
Securing Three Points
The match extended for nearly four minutes of added time, during which Argentina secured all three points with a triumphant win on their home turf. This marks the beginning of their journey towards the 2026 World Cup.
Argentina's performance showcased their determination and Messi's brilliance, setting the stage for what promises to be an exciting qualification campaign.
Stay tuned for more updates as Argentina's road to the 2026 World Cup unfolds.