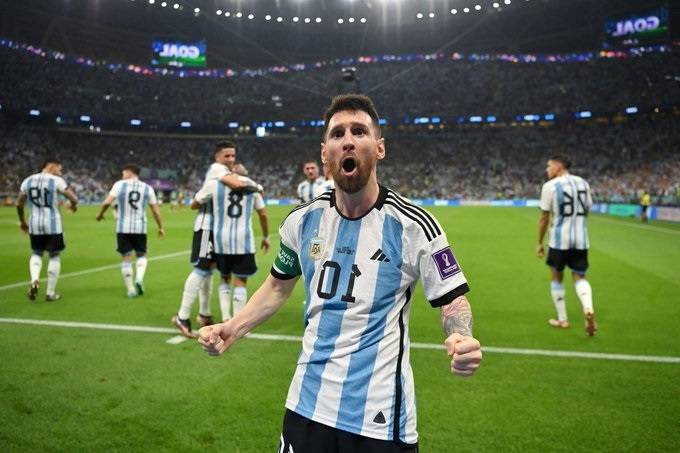 The Argentina national team achieved a difficult victory at the expense of the Mexico national team, 2-0, during the match that brought the two teams together on Saturday evening at "Lusail" stadium, in the second round of Group C competitions in the 2022 World Cup, which Qatar is currently hosting.
The first goal of the match came through Argentine legend Lionel Messi in the 64th minute, through a missile shot creeping from the penalty area, to settle into the net.
In the 87th minute, Enzo Fernandez, the Argentine national team player, scored a second goal for the Tango team from Messi's pass, to ensure his country's victory with a clean double.
Messi played his 21st match in the World Cup, equaling Diego Armando Maradona as the most Argentine player who participated in the tournament, and reached Maradona's goals in the World Cup with 8, according to the "Opta" statistics network.
With this result, the Argentine national team revived its hopes of qualifying for the round of 16, after achieving the first 3 points in second place behind leaders Poland with 4 points, while the Saudi national team occupies third place with 3 points, and Mexico is bottom of Group C with one point.
The formation of Argentina against Mexico came: Goalkeepers: Emiliano Martinez / Defense line: Otamendi, Lisandro Martinez, Montiel, Acuña / Midfield: McAllister, Rodrigo de Paul, Guido Rodriguez / Offensive line: Lionel Messi, Lautaro Martinez, Angel Di Maria.
As for the formation of Mexico against Argentina: Goalkeepers: Ochoa / Defense: Alvarez, Araujo, Moreno, Montes / Midfield: Gallardo, Guardado, Herrera / Attack: Chavez, Lozano, Vega.
The Argentine national team played the match after receiving a strong blow, losing at the hands of the Saudi national team, with a goal to two, while the Mexico national team drew without goals with the Polish national team.
مزيد من المعلومات عن national