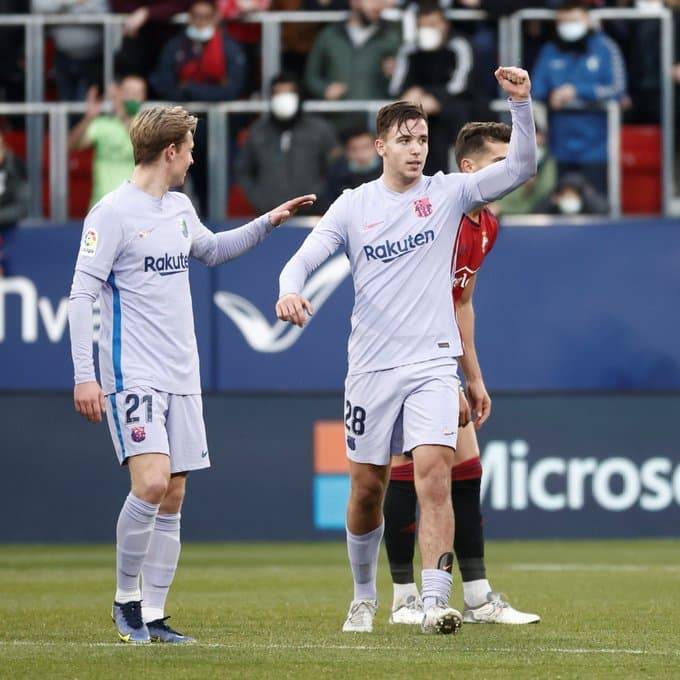 Barcelona draw with Osasuna
On Sunday evening, as part of the 17th round of La Liga. Barcelona continued their underwhelming results, drawing (2-2) with hosts Osasuna.
Barcelona's goals were scored by Nico in the 12th minute and Abdul Samad Zalzouli in the 49th minute. While Lausasuna scored by David Garcia in the 14th minute and Avila in the 86th.
With that tie, the Blaugrana took their tally to 24 points, eighth in the LaLiga standings table and Osasuna also took their tally to 22 points, in 10th place.
Match events
The game began with a threat from the hosts, with Osasuna's Moncayola firing into the hands of Barcelona goalkeeper Ter Stegen in the 2nd minute.
Barca went ahead with the first goal in the 12th minute through Nico. They received a superb pass from teammate Jaffe, to break offside and slot home brilliantly.
Osasuna's David Garcia managed his side's equalizer with a powerful header, taking advantage of a cross from teammate Moncayola in the 14th minute.
Umtiti almost caused Osasuna a new goal, through a pass to goalkeeper Ter Stegen, that came out to the corner and, fortunately for the Frenchman, did not make the net, in the 21st minute.
Zalzouli's Abdul Samad hit a powerful ball, from the confines of the box. But it passed the top of Osasuna's goal in the 23rd minute.
And at the start of the second half, the seismic pulled Barca back in front, in the 49th minute, when he conceded a cross from the right end through Dembley, hitting the far right of Osasuna's goalkeeper Herrera.
That goal caused outrage for Osasuna's players, who signaled a handball on Busquets, at the start of the Catalan team's attack. But video technology acknowledged the validity of the goal.
Dembley complained of a muscle injury, while distracting one of the balls, and could not keep playing, for Xavi Hernandez, Barcelona's head coach, to decide to pull him out and engage Philippe Coutinho in his place, in the 80th minute.
Osasuna pulled in the equalizer (2-2), following a left-hand corner. Which was dispersed by the Barca defense to reach Avila. Who fired a powerful shot past Ter Stegen, in the 86th minute.
Barcelona's attempts to progress again failed in the final minutes, continuing to hemorrhage points.
More News
Bayern hat-trick sends Barcelona into Europa League
PSG end Club Brugge's European campaign
Barcelona's first defeat under Xavi. Real Betis beat Barcelona