Barcelona snatched a disappointing 1-1 draw against its guest Napoli at the Camp Nou, today, Thursday, in the first leg of the qualifying round for the price of the European League final.
Peter Zielinsky made the lead for Napoli in the 29th minute, and Ferran Torres equalized for Barcelona with a penalty kick in the 59th minute.
Watch the goals of Barcelona and Napoli 1-1
Barcelona will host Napoli, next Thursday, at the Diego Maradona Stadium.
Pedri almost scored for Barcelona early, after Aubameyang succeeded in cutting the ball from the Napoli defense, to pass the ball to Pedri, who hit the crossbar.
And there was a real chance for Nico Gonzalez, who penetrated into the area from the right side and hit a missile ball, but Merritt managed to clear it for a corner kick.
Aubameyang came close to scoring after he got the ball outside the penalty area, and the Gabonese fired a powerful ground shot that passed near the left post.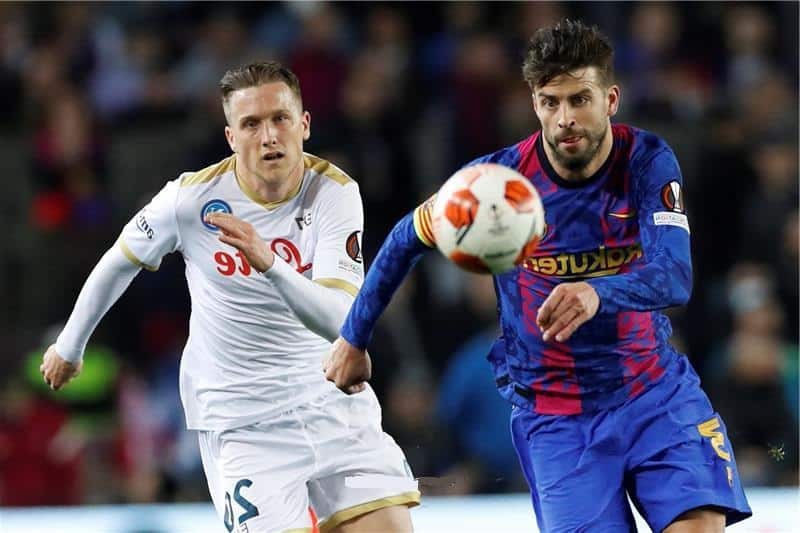 Osimene missed a solo chance, after a pass from the middle of the field, and Victor ran to shoot a ball towards the net, but Ter Stegen kept it away from his goal.
And from Elmas's pass to the coming from behind, Zelensky, who hit a ground ball that was saved by Ter Stegen, to bounce back to him again and put it into the net in the 29th minute.
Barcelona got a penalty kick after returning to the var , who found a handball on Juan Jesus, and Ferran Torres hit it successfully, scoring the equalizer in the 59th minute.
Aubameyang, in the 62nd minute, received the ball on the border of the area from the left side, penetrated, and fired a powerful shot with his right foot, which passed over the crossbar.
And from a quick counter-attack, the ball reached Dembele on the right, and he ran quickly and crossed to Aubameyang, but Rahmani managed to clear it.
Fabian Ruiz, the Napoli player, almost scored an own goal, after a cross from the left side of Barcelona, ​​​​Ruiz met with a reverse header that passed next to the left post of his team's goal.
Torres missed the most dangerous chance of the match, after several elaborate passes between the feet of the Barca players, to reach the ball to Dembele, who passed to Pedri, to reach the ball to the unmarked Torres, but he shot far from the goal.
In the 88th minute, Dembele dribbled the Napoli defender and passed across, but it hit one of the Naples defenders, and Alba failed to put it into the net.
Substitute Luke de Jong almost scored a fabulous goal after Dembele's cross, which changed the shape of Barcelona's attack, to turn De Jong with a scissor that passed next to the post, to end the match in a draw.