Al Nassr secured a hard-fought win against Al-Tai, with Cristiano Ronaldo scoring a crucial penalty in the 87th minute. Read about the match highlights and its impact on the Saudi Arabian Pro League standings.
Introduction
In an intense showdown in the Saudi Arabian Pro League, Al Nassr continued their positive streak by clinching a hard-fought victory against Al-Tai, with a final score of 2-1. This thrilling encounter took place at the Prince Abdul Aziz Bin Musa'ad Bin Jalawi Stadium on Friday as part of the eighth round of matches in the league.
Al Nassr's Brazilian midfielder, Anderson Talisca, opened the scoring for the visitors in the 32nd minute, showcasing his skill and finesse. However, it was Cristiano Ronaldo who emerged as the hero of the match, converting a crucial penalty in the 87th minute. Al-Tai's Ferjani Sassi managed to find the net in the 79th minute, briefly leveling the scoreline.
With this vital victory, Al Nassr temporarily climbed to the third position in the league standings, amassing a total of 18 points. Meanwhile, Al-Tai's points tally remains at 7, securing them the twelfth position in the league.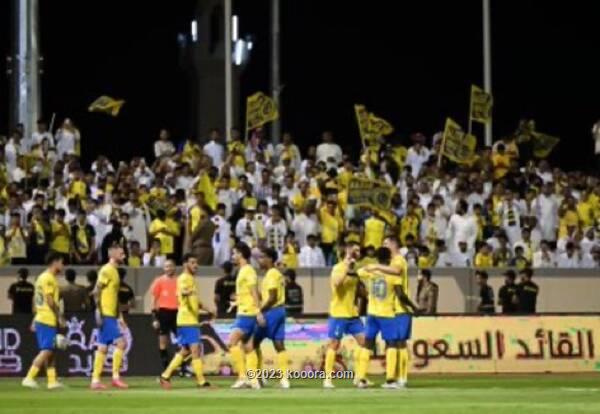 First Half
The first half of the match saw Al Nassr launching a relentless assault on Al-Tai's goal, with Cristiano Ronaldo squandering two opportunities in the opening quarter-hour of the game.
It was the Brazilian maestro, Anderson Talisca, who broke the deadlock for Al Nassr in the 32nd minute. Talisca capitalized on a brilliant pass from Ronaldo to find the back of the net, putting his team in the lead.
Second Half
In the second half, Ferjani Sassi of Al-Tai managed to level the score in the 79th minute with an impressive individual effort, showcasing his prowess in front of goal.
As the match entered its closing minutes, the referee awarded a crucial penalty to Al Nassr after Talisca's header struck the hand of Al-Tai's defender, Samedo. Cristiano Ronaldo stepped up to take the penalty, and he made no mistake, securing all three points for his team.
Conclusion
In a thrilling encounter, Cristiano Ronaldo's late penalty ensured Al Nassr's victory against a resilient Al-Tai side. This win has significant implications for the Saudi Arabian Pro League standings, as Al Nassr continues to showcase its championship ambitions.