Goals: Nantes -Juventus – Played on 02/23/ 2023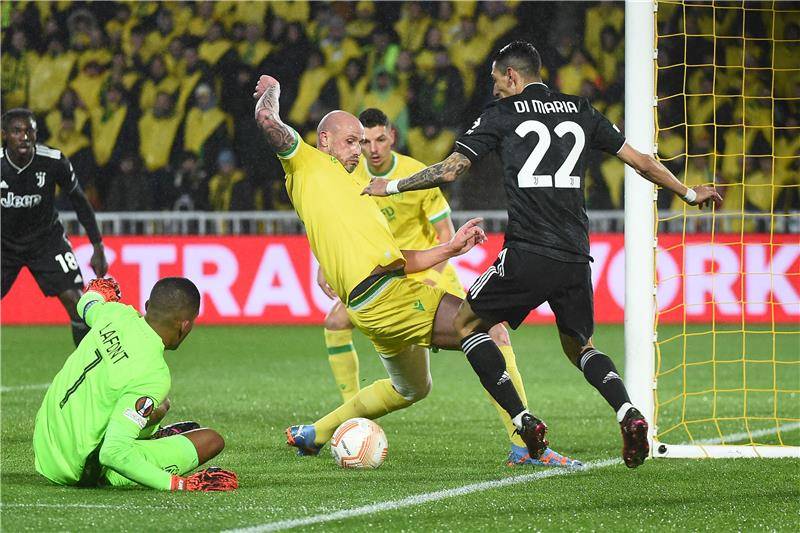 Juventus swept its French host Nantes (3-0), this evening, Thursday, in the second leg of the knockout round that qualifies for the European League final price.
The Argentine star, Angel Di Maria, scored Juventus' three goals in the minutes (5, 20 from the penalty mark, 78), to qualify the Bianconeri for the next round after winning the two matches (4-1).
Di Maria scored the first goal early, after Fagioli cut a ball from the middle of Nantes stadium, to pass it to the Argentine on the penalty area line from the right, to fire a direct, one-touch curved shot into the net.
Di Maria continued to spread his magic in France, after receiving the ball in the 16th minute, to pass the defender and then the goalkeeper and hit a ball with the butt towards the empty net, Lula Balois, who blocked the ball with his hand, so the referee blew his whistle, counting a penalty kick, and declared the red card in the face of the Nantes defender.
In the 20th minute, Di Maria succeeded in doubling the score for Juventus by executing the penalty kick, to the left of goalkeeper Lavon.
In the 45 + 3 minute, the Nantes defender made a mistake and fell in front of Kostic, who penetrated from the left side into the penalty area, and fired a creeping shot that hit the post and bounced into the arms of the goalkeeper.
Juventus tried to score more goals in the second half, as Danilo passed a cross that Kostic met with a shot that was saved by the goalkeeper, in the 52nd minute.
The Egyptian international, Mostafa Mohamed, participated in the ranks of Nantes in the 73rd minute, as a substitute for his colleague Moses Simon.
Alex Sandro, the left back of Juventus, almost increased the score with a third goal in the 75th minute, after a corner taken by Di Maria and the Brazilian met it with a header so that Lavon shone and pushed it away with his fist.
Sandro was alone in the goal to hit the ball, and Lavon shone again and pushed it away, and Di Maria followed it up with a header from a difficult angle, to be blocked by the goalkeeper again, then Vlahovic followed it up with a shot outside the goal.
But the referee returned and awarded a correct goal for Juve, after using video technology, as he found that the ball had crossed the entire goal line, in the 78th minute.
Mostafa Mohamed posed the first threat to the goal of Chesney, the Juventus goalkeeper, in the 85th minute, after the Egyptian star received the ball and penetrated, then fired a powerful shot that the Polish goalkeeper removed, so that the match ended with the victory of the Bianconeri (3-0).