Video goals :Manchester City-Everton-Played on 12/31/ 2022
Everton returned with a valuable draw from Manchester City Square (1-1), this evening, Saturday, in the meeting that was hosted by the Etihad Stadium in the 18th round of the English Premier League.
Manchester City opened the scoring via Erling Haaland in the 24th minute, and Demarai Gray equalized for Everton in the 64th minute.
With that result, Manchester City raised its tally to 36 points in second place, and Everton raised its tally to 15 points in 16th place.
City posed the first danger in the match in the 11th minute, after Haaland received a pin from De Bruyne inside the area, the Norwegian dodged goalkeeper Pickford and then hit a ball that passed next to the post.
The city demanded a penalty kick in the 21st minute after Riyad Mahrez was hampered by Jay, but the referee did not count it.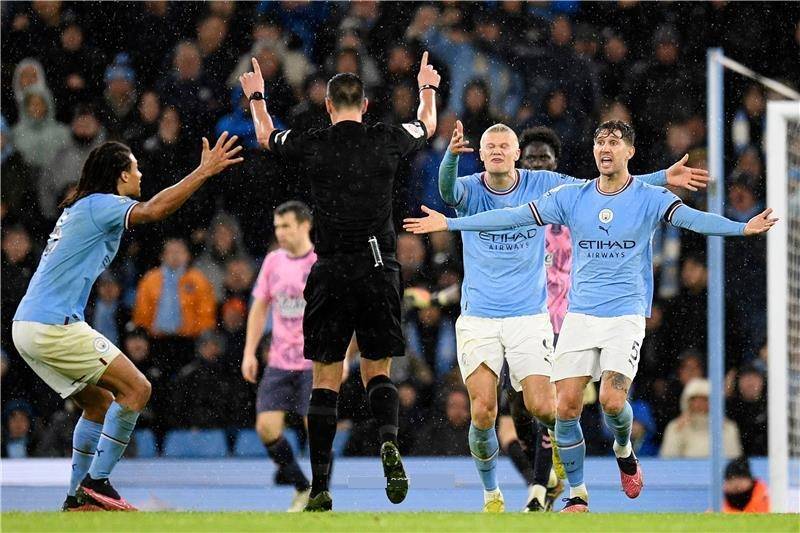 City opened the scoring in the 24th minute, after Mahrez manipulated Mikolenko on the right side of the penalty area, as he passed the ball to Haaland, who in turn hit a straight ball that hit the net.
The match calmed down in the following minutes, then City appeared again in the 44th minute after obtaining a violation on the right side, which De Bruyne crossed, followed by Stones with a strong header that hit the post, to end the first half with City advancing 1-0.
At the start of the second half, the match stopped for about 5 minutes until the 58th minute, due to a technical problem with the assistant referee.
And Everton succeeded in adjusting the result in the first attacking appearance in the match in the 64th minute, through a quick counterattack, through which Gray launched from the left side until he reached the penalty area, and then hit a missile that hit the crossbar and entered the net.
Everton gained confidence after the amendment, and tried to score the second goal in the 68th minute, with a shot from Onana from outside the area, which collided with Silva and passed next to the post.
City almost scored the second goal in the 82nd minute, after Mahrez followed a ball away from Everton's defense inside the area, so the Algerian hit a brilliant ball by Pickford in response.
Guardiola made 3 substitutions at once in the 87th minute in search of snatching the victory, by pushing Gundogan, Foden, and Alvarez at the expense of Grealish, Luis, and Bernardo.
And in the 90 + 5 minute, De Bruyne hit a ball from inside the area, and Pickford shone in tackling it.
Rodrigo followed him with a ground kick from outside the area in the 90 + 6 minute, which passed next to the post, so the match ended in a positive draw (1-1).