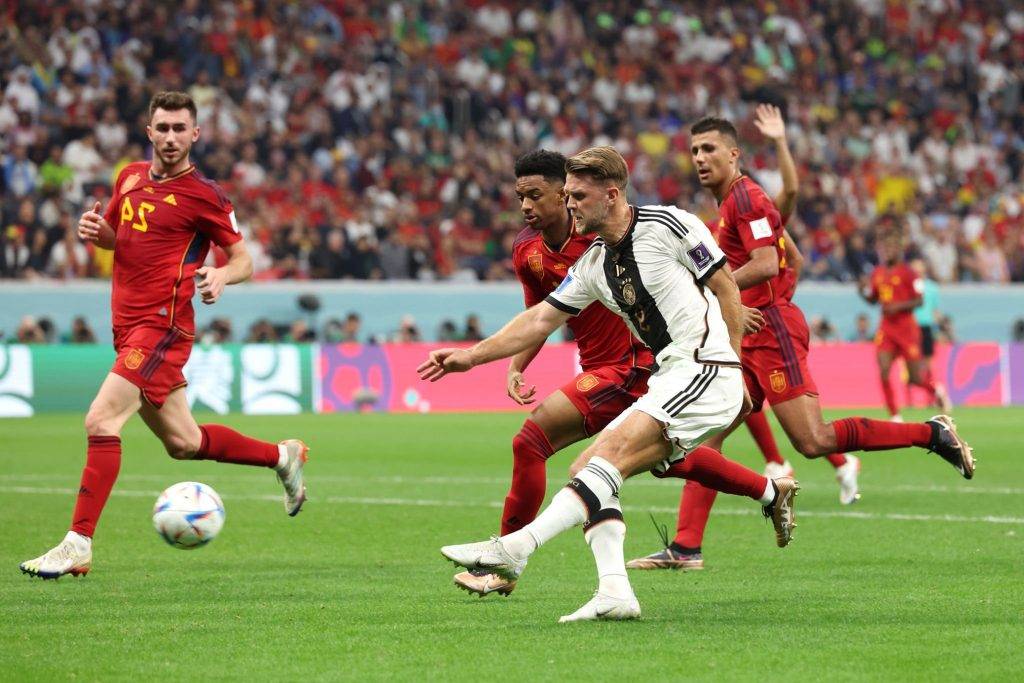 The Spanish national team opened its campaign in the 2022 World Cup with a terrifying seven goals inside the net of Costa Rica, to give a stern warning to all competitors in the World Cup.
While the German national team began its campaign in the World Cup in Qatar, losing 1-2 against Japan, to make it difficult for its position in Group E of the first round.
The Spain national team is armed with a large number of young talents, headed by Pedri Gonzalez, Javi, Ferran Torres and Marco Asensio.
Hans Flick, coach of the Germany national team, relied on a mixture of experience with the presence of veteran goalkeeper Manuel Neuer, Thomas Muller, Gundogan and Niklas Sule, and the young talents represented by Jamal Musiala, Kai Havertz and Kimmich.
The formation of the Spanish national team was as follows:
Unai Simon; Carvajal, Rodri, Laporte, Jordi Alba; Busquets, Javi, Badri; Marco Asensio, Ferran Torres and Dani Olmo.
While the formation of the German national team came as follows:
Manuel Neuer, Antonio Rudiger, David Ram, Thilo Kilher, Joshua Kimmich, Leon Goretzka, Serge Gnabry, Thomas Mueller, Jamal Musiala, Nicholas Saul, Alkai Gundogan.
The Spanish national team advanced through Alvaro Marotta, striker of Atletico Madrid, in the 54th minute, to increase the pain of the German machines.
And then the German team tried to equalise
The player Nicholas Vilkrug scored Germany's goal against Spain in the 82nd minute of the match currently taking place between them, making the score 1-1 in the match held at the "Al Bayt Stadium" in the second round of Group E of the 2022 World Cup currently being held in Qatar and will continue until The eighteenth of this December, with the participation of 32 teams representing the six continents.
Spain occupies the top of the Group E table in the World Cup with 4 points, Japan comes behind it on goal difference, then Germany ranks third with a point.