A crazy celebration of Brighton players for their historic qualification for the European League
Brighton Holds Manchester City to a Draw, Ending Winning Streak
Introduction:

In a highly anticipated Premier League match, Manchester City and Brighton played out a 1-1 draw at Falmer Stadium. Phil Foden found the net for City in the 25th minute, while Julio Enciso equalized for Brighton in the 38th minute. The result sees Manchester City maintain their position at the top of the standings with 89 points, while Brighton secures sixth place and qualifies for the European League with 62 points.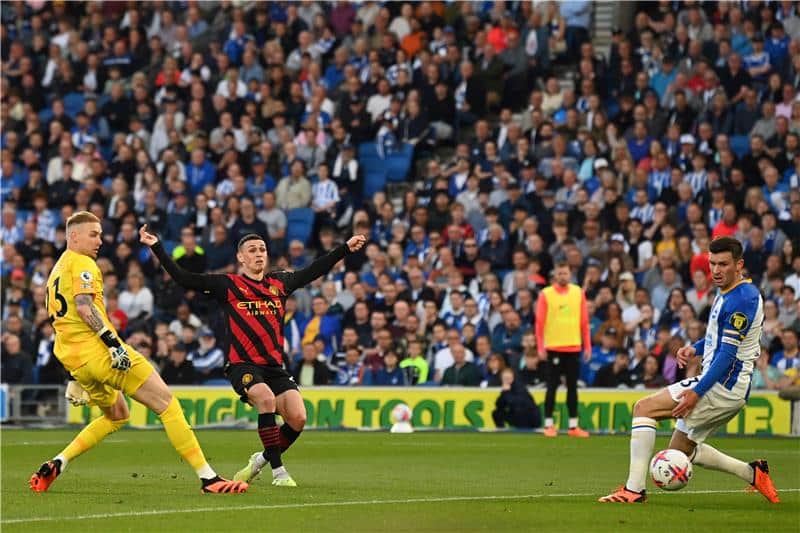 City's Early Dominance:

Manchester City started the match on the front foot, with an early incursion from Phil Foden into the left side of the penalty area. However, his cross to Erling Haaland resulted in a header that unexpectedly went over the crossbar. Brighton responded in the 10th minute with a weak shot from Gilmour that goalkeeper Ortega easily saved.
Brighton's Threat:

Brighton had their moments as well. In the 20th minute, Welbeck's direct free-kick hit the crossbar, coming close to opening the scoring. Despite City's dominance, Brighton continued to search for an equalizer. In the 38th minute, Enciso unleashed a powerful shot from outside the area that found the back of the net, leveling the score.
End-to-End Action:

The match saw both teams create chances. City took the lead in the 25th minute when Riyad Mahrez provided an excellent pass to Haaland, who then opted to pass to Foden. Foden's shot deflected off Van Hickey's foot and found the net. Brighton thought they had equalized through Mitoma in the 31st minute, but the goal was disallowed due to a handball.
Second Half Struggles:

The second half saw fewer clear-cut opportunities for both teams. Brighton goalkeeper Steele made crucial saves to deny City's attempts, including a powerful shot from substitute Palmer in the 53rd minute. Brighton showed resilience and threatened with shots from Ferguson and Estopenan that narrowly missed the target.
Late Drama:

In the 79th minute, Haaland appeared to score a second goal for City, but VAR intervened and disallowed it due to a violation. Brighton pushed for a winner, with Mitoma's header sailing over the crossbar in the 81st minute. The match ultimately ended in a 1-1 draw, with both teams settling for a point.
Conclusion:

Brighton's resilient performance halted Manchester City's winning streak, with the match ending in a 1-1 draw. While City maintained their position at the top of the Premier League table with 89 points, Brighton's 62 points secured their sixth-place finish and qualification for the European League. The match showcased the competitive nature of the Premier League and highlighted Brighton's ability to challenge the league leaders.