Barcelona's Loss Gives Celta Vigo a Lifeline in La Liga Finale
Introduction:
In the 38th round of La Liga, Barcelona, the Spanish league champion, suffered a defeat against Celta Vigo, giving the host team a crucial lifeline. Celta Vigo emerged victorious with a 2-1 scoreline at Palaidos Stadium. Gabriel Viega netted both goals for Celta Vigo in the 42nd and 65th minutes, while Ansu Fati scored Barcelona's lone goal in the 79th minute. This loss marked Barcelona's third defeat after clinching the La Liga crown, bringing their total to six losses this season and leaving them with 88 points in the lead.
Celta Vigo's Dominance:

Right from the start, the hosts pressed forward, aiming to score an early goal while Barcelona appeared relatively calm. Marc-Andre ter Stegen made several crucial saves to deny Celta Vigo's Gabriel Viega, Carlis Perez, Seferovic, and Oscar Rodriguez. Barcelona, feeling the pressure, fought back to defend their pride and had their fair share of dangerous attempts. Frank Casey missed two clear chances, falling victim to the offside trap, while Robert Lewandowski struck the ball wide of the post. Rafinha also had an effort disallowed for offside, and Ferran Torres struggled to make an impact in the Catalan attack.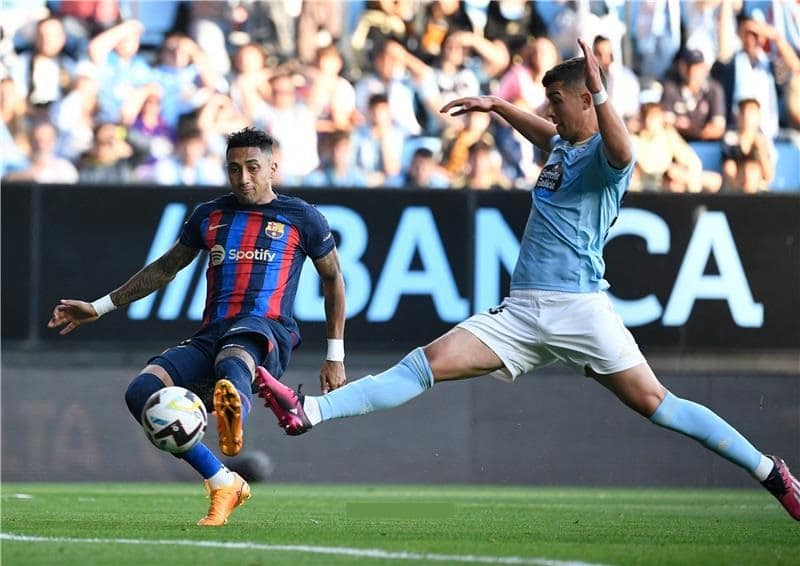 Celta Vigo Takes the Lead:

Celta Vigo's dominance was rewarded with a late goal by Gabriel Veiga, capitalizing on Frenkie de Jong's momentary lapse in building an attack for Barcelona. As the second half commenced, Barcelona made changes, with Javi replacing Christensen and Sergi Roberto shifting to right back. However, Barcelona's performance did not improve, and Celta Vigo remained focused and enthusiastic. Barcelona manager Xavi Hernandez made a triple substitution, bringing on reserve goalkeeper Inaki Peña along with Osman Dembele and Ansu Fati in place of Ter Stegen, Rafinha, and Ferran Torres.
Celta Vigo Secures the Win:

Unfortunately for Barcelona, the substitute goalkeeper did not have a memorable debut, conceding a second goal from Gabriel Viega's cross that found the net after hitting the right post. Pablo Toure entered the field for Eric Garcia, and Barcelona pressed forward in an attempt to salvage their performance. Their efforts paid off when Ansu Fati scored a well-executed goal following a precise cross from Dembele. Despite six minutes of added time, Celta Vigo managed to hold on, securing their escape from relegation and igniting overwhelming joy among the team, coach, and fans.
Conclusion:

Barcelona's defeat against Celta Vigo in their final La Liga match provided the host team with a lifeline to avoid relegation. Celta Vigo's superior performance and clinical finishing resulted in a 2-1 victory over the Spanish league champions. This loss marked Barcelona's sixth defeat of the season but did not dampen their title-winning campaign. On the other hand, Celta Vigo celebrated their survival in the league, leaving their fans relieved and filled with joy.