Goals Fest: Portugal 9-0 Luxembourg – Watch the Highlights! ⚽🇵🇹🇱🇺🔥
Historic Victory for Portugal Without Ronaldo
Portugal, historic victory, Luxembourg
Introduction
In a historic display of dominance, the Portuguese national team secured a resounding 9-0 victory against Luxembourg in the Euro 2024 qualifying match. Despite the absence of their captain, Cristiano Ronaldo, due to suspension, Portugal unleashed an offensive onslaught, scoring nine goals.
Portugal's Commanding Performance
Portugal's performance was nothing short of spectacular as they netted four goals in the first half and followed up with five more in the second.
First Half Blitz
In the first half, Bruno Fernandes and Gonçalo Inácio exhibited exceptional chemistry. The Manchester United star set up his teammate with identical goals in the 12th and 49th minutes. Gonçalo Ramos also made his presence felt, scoring twice in the 18th and 34th minutes, capitalizing on assists from Bernardo Silva and Rafael Leão.
Liverpool's forward, Diogo Jota, had a stroke of bad luck as the crossbar denied him a goal in the opening half.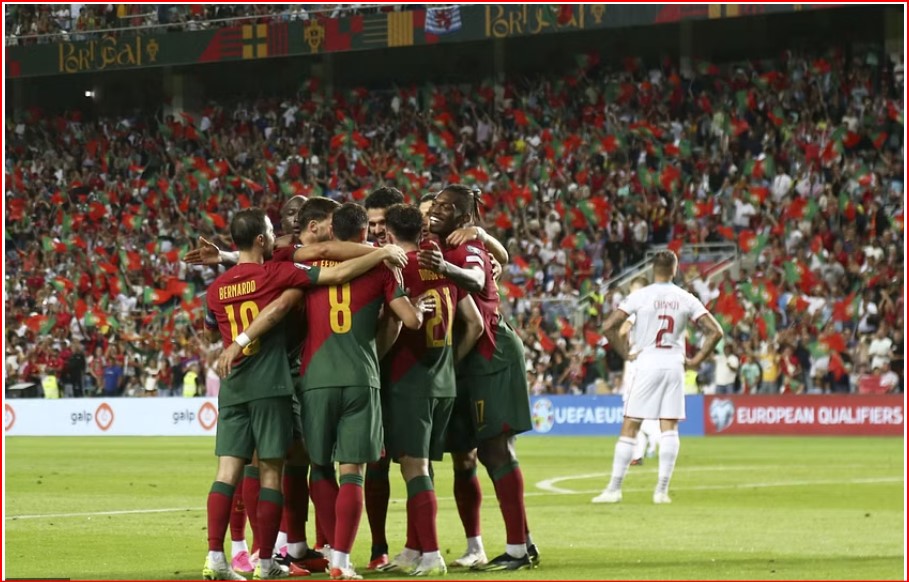 Jota Shines in the Second Half
Diogo Jota's fortune changed dramatically in the second half as he found the net in the 57th minute, benefiting from a brilliant pass by Bruno Fernandes. Just ten minutes later, Jota provided an assist to his teammate, Ricardo Horta, who swiftly added Portugal's sixth goal shortly after coming on as a substitute.
Liverpool's striker wasn't done yet and scored his second goal in the 77th minute, showcasing individual brilliance.
Bruno Fernandes took a break from his playmaking duties to score Portugal's eighth goal in the 83rd minute after a pass from Otavio.
Luxembourg's coach, Luc Holtz, couldn't bear the embarrassment and left the field after the eighth goal. However, the Euro 2016 champions showed no mercy to their visitors.
In the 88th minute, João Félix found the net for Portugal's ninth goal after an assist from Ruben Neves, just moments after both players had entered the game from the bench.
Conclusion
With this historic 9-0 victory, the Portuguese national team has demonstrated their exceptional prowess in the Euro 2024 qualifiers. The absence of Cristiano Ronaldo did not deter them from achieving their biggest victory in history, solidifying their position at the top of Group 10 with 6 consecutive wins, 24 goals scored, and a solid defense that has kept their net clean.