Thrilling Match Highlights: Manchester United 1 – 3 Brighton (09/16/2023) ⚽️😱
Brighton Stuns Manchester United at the Theater of Dreams
Introduction
In a surprising turn of events, Brighton defeated Manchester United 3-1 at their own fortress, Old Trafford, during the 5th round of the English Premier League. This unexpected victory propels Brighton to third place in the league with 12 points, while Manchester United drops to 12th place with only 6 points.
Early Moments and Rashford's Attempt

The match's intensity was evident from the start when Rashford penetrated the penalty area from the left side, unleashing a ground shot skillfully blocked by Brighton's goalkeeper, Jason Steele. Brighton then managed to quell United's momentum by slowing down the game and maintaining possession in their defensive areas.
Brighton's Opening Goal

Brighton decided to launch a swift counter-attack that resulted in an early goal. An incisive pass from Adingra found Welbeck, who expertly redirected it into the net, giving the visitors a crucial lead.
Rashford's Near Miss

Rashford came close to equalizing with a powerful long-range shot, but it hit the crossbar. He later sent a ground cross from the left side to Højbjerg, who easily put it into the net, but the goal was disallowed after a VAR review due to the ball crossing the line.
Second Half Drama

The second half witnessed several close attempts, including Rashford's powerful shot that hit the outside of the net.
Gross Extends Brighton's Lead

Gross extended Brighton's lead with a calm, ground shot after receiving a pass from Lamptey, making it 2-0. Rashford tried his luck with a long-range free-kick, but Steele caught the ball comfortably.
Joao Pedro Secures Victory
Lamptey sent a ground cross from the left side to Joao Pedro, who struck it powerfully into the net, securing Brighton's third goal.
Hannibal Mejbri's Consolation Goal
In a brief response, Hannibal Mejbri scored a powerful goal from a distance, reigniting the match for Manchester United.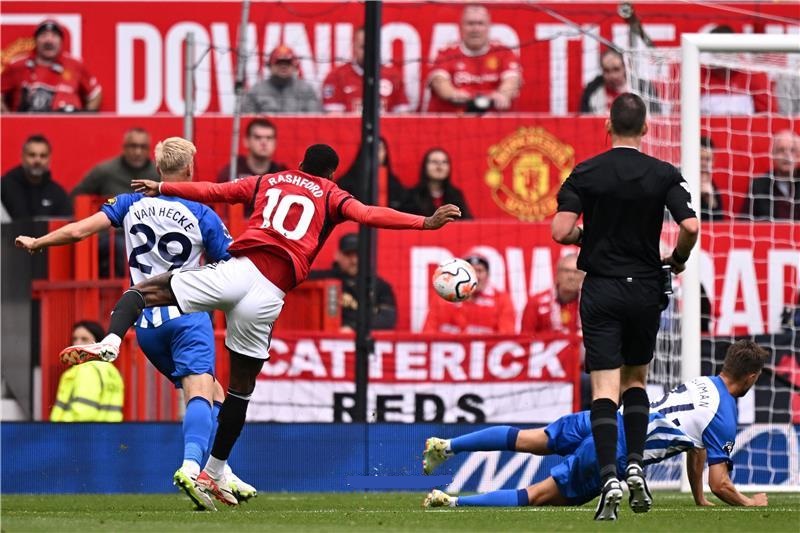 Brighton's Resilience
Despite the goal, Manchester United couldn't capitalize on it to apply sustained pressure in the final minutes. Brighton displayed remarkable resilience in denying their opponents access to dangerous areas.
Conclusion

Brighton's impressive victory over Manchester United at Old Trafford shook up the Premier League standings. The underdogs now sit third, while Manchester United faces a tough battle to climb up the rankings. This match showcased Brighton's determination and Manchester United's struggle to find their form.
This unexpected result will surely be a talking point among football fans, as Brighton pulled off a remarkable feat on the hallowed grounds of Old Trafford.