Barcelona Suffers Another Setback, Losing 3-1 to Valladolid
Introduction:

Barcelona's struggles continued as they suffered a 3-1 defeat against Valladolid in the 36th round of La Liga, following their loss to Real Sociedad in the previous round. Valladolid secured their victory with goals from Andreas Christensen's own goal in the 2nd minute, Kyle Larrin in the 22nd minute, and Gonzalo Plata in the 73rd minute. Barcelona's consolation goal came from Lewandowski in the 84th minute. This defeat leaves Barcelona with 85 points at the top of the La Liga table, while Valladolid climbs to 17th place with 38 points.
Early Blow: Own Goal by Barcelona

Valladolid took an early lead in the 2nd minute when Machis delivered a cross from the left, only for Barcelona's Andreas Christensen to unintentionally score an own goal with a powerful header.
Missed Opportunities for Barcelona:

Barcelona's Pablo Toure attempted a shot from outside the box in the 10th minute, but it sailed over Masip's goal. In the 30th minute, Masip made an impressive save to block Rafinha's shot from inside the penalty area. Lewandowski also had a chance with a shot from outside the box in the 32nd minute, but it missed the target.
Valladolid Doubles Their Lead:

Barcelona's Eric Garcia fouled Plata inside the penalty area, resulting in a penalty kick for Valladolid. Kyle Larrain stepped up and successfully converted the penalty, extending Valladolid's lead to 2-0 in the 22nd minute.
Valladolid's Third Goal and Near Misses:

Gonzalo Plata scored Valladolid's third goal in the 73rd minute, though there was a suspicion of offside. After a VAR review, the goal stood. Rosa came close to adding a fourth goal for Valladolid, hitting the left post in the 79th minute.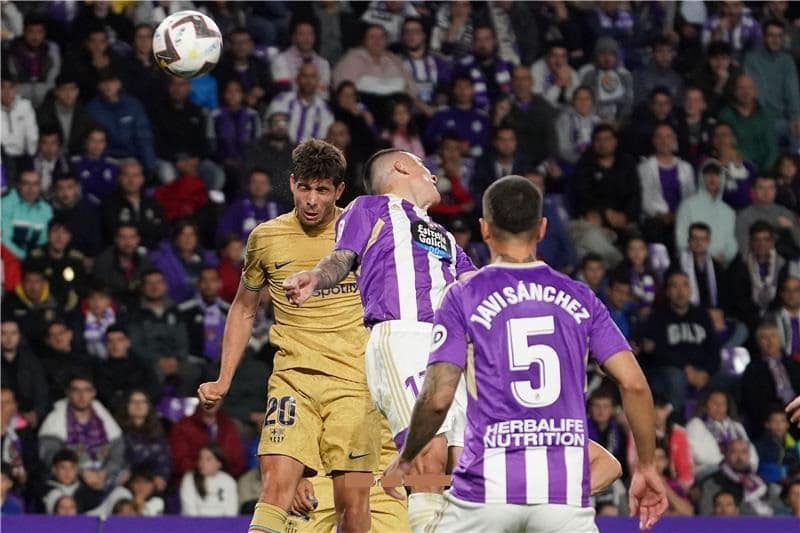 Late Consolation Goal for Barcelona:

In the 84th minute, Robert Lewandowski managed to reduce the deficit for Barcelona. Frenkie de Jong provided a deep pass, allowing Lewandowski to outmaneuver the goalkeeper and find the back of the net.
Conclusion:

Barcelona's woes continued as they fell 3-1 to Valladolid in a disappointing performance. Valladolid's early lead through an own goal, followed by two more goals, secured them a valuable victory in their battle to avoid relegation. Barcelona's position at the top of the La Liga table remains unchanged, but the loss adds pressure to their title aspirations.