Napoli Secures Victory and Seeks Redemption against Inter Milan in Calcio Showdown
Napoli avenged their previous loss to Inter Milan with an impressive 3-1 victory at the Diego Maradona Stadium in the 36th round of the Italian League. Inter faced adversity early on as Roberto Gagliardini was sent off in the 41st minute after receiving two yellow cards. Anguisa opened the scoring for Napoli in the 67th minute, with Romelu Lukaku equalizing for Inter in the 82nd minute. However, Napoli quickly regained the lead through Giovanni Di Lorenzo (85th minute), and Gaetano sealed the victory with a goal in stoppage time (90+4). With this win, Napoli climbed to the top of the standings with 86 points, while Inter remained in third place with 66 points.
Napoli's Dominance
Early Opportunities and Gagliardi ni's Dismissal
The first ten minutes saw a cautious start from both teams. In the 11th minute, Zelinski executed a clever free kick that led to Anguisa's low shot narrowly missing the post. Anguisa had another chance in the 17th minute, firing a creeping shot wide of the left post. Napoli continued to assert their dominance, and in the 40th minute, Zelensky's direct free kick nearly deceived Inter's goalkeeper, Onana.
Turning Point: Gagliardi ni's Red Card
In the 41st minute, Gagliardini received his second yellow card for obstructing Anguisa, resulting in his dismissal. The numerical disadvantage put Inter at a disadvantage for the remainder of the match.
Napoli's Persistence and Anguisa's Opener
Napoli continued to mount a relentless assault on Inter's defense. In the 58th minute, Zelinsky unleashed a powerful long-range shot that sailed over the crossbar. Onana made a brilliant save in the 65th minute, denying Kvaratskhelia's well-crafted attempt. Napoli finally broke the deadlock in the 67th minute when Anguisa capitalized on Zelinsky's pass, delivering a powerful shot that slipped past Onana's hand and into the net.
Inter's Response and Napoli's Second Goal
Inter managed to equalize in the 82nd minute as Lukaku converted a cross from Dimarco. However, Napoli swiftly regained their advantage just three minutes later. Di Lorenzo received a pass from Anguisa outside the box and unleashed a sublime left-footed strike into the difficult corner of Onana's goal.
Late Drama and Napoli's Third Goal
Onana continued to demonstrate his shot-stopping abilities, denying Politano's excellent effort with a remarkable save. Simeone also had a chance, but his unorthodox shot failed to find the target in the 93rd minute. In the final moments of the match (90+4), Gaetano sealed Napoli's victory with a clinical finish after a swift counterattack.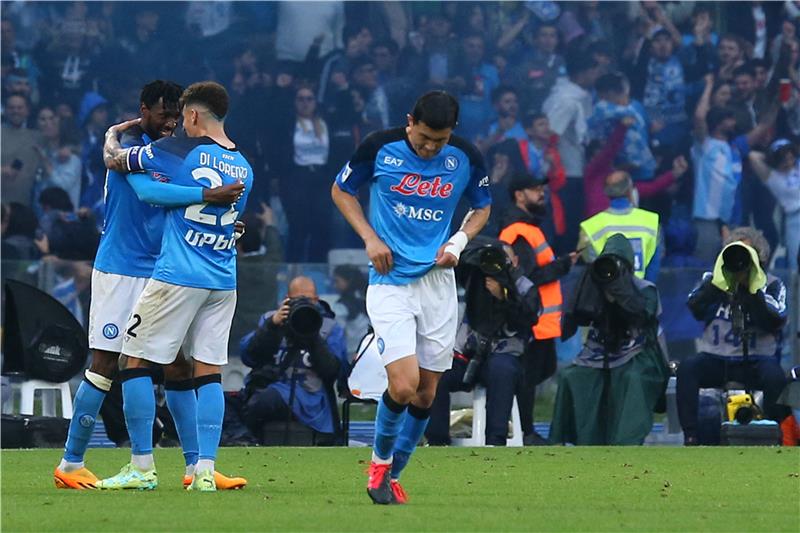 Conclusion: Napoli's resounding 3-1 triumph over Inter Milan showcased their determination for redemption. Anguisa, Di Lorenzo, and Gaetano were instrumental in securing the win, while Lukaku's goal provided a temporary equalizer for Inter. With this victory, Napoli claimed the top spot in the standings with 86 points, highlighting their title aspirations. Inter, on the other hand, remained in third place with 66 points. Napoli's dominant performance and successful revenge against Inter emphasize their strength as they approach the climax of the Italian League season.