Goals: Internazionale – Monza – Played on 08/19/ 2023
Inter Milan Clinches Dominant 2-0 Victory Against Monza with Lautaro's Brace
Introduction:
In a thrilling showdown on Saturday at Giuseppe Meazza Stadium, Inter Milan outshone Monza with a stunning 2-0 victory. Captain Lautaro Martinez's double in the 8th and 76th minutes secured the Nerazzurri's triumph, earning them three crucial points in the opening round of the Italian League. This dynamic performance propelled Inter to claim the third spot on the league table, while Monza found themselves in the penultimate position without any points.
Quick Start:

The match commenced with a swift tempo as Inter seized control. In the 5th minute, Mkhitaryan unleashed a powerful shot that narrowly sailed above the crossbar. However, just eight minutes in, Lautaro capitalized on a brilliant cross from Dumfries, precisely slotting the ball into the net to ignite Inter's goal spree.
Monza's Response and First Half Action:

Determined to level the score, Monza pressed forward. Gagliardini's ground shot in the 21st minute was comfortably caught by goalkeeper Sumire. As the half progressed, Inter orchestrated a counterattack, with Thuram, Barella, and Mkhitaryan orchestrating a fluid sequence that culminated in a strong shot from Di Marco, skimming past the left post.
As the clock ticked down to halftime, Di Marco and Barella combined again, but the former's attempt landed comfortably in Monza's goalkeeper's hands. Monza's Curia launched a potent shot from outside the penalty area, but it drifted wide, leaving the score at 1-0 in favor of Inter at the end of the first half.
Second Half Action and Lautaro's Brace:

The second half kicked off with an electrifying opportunity for Monza in the 47th minute. Kriakopoulos's well-placed shot was blocked by Calhangulu's stellar defense, preserving Inter's lead. Responding swiftly, Lautaro set up Di Marco, whose powerful strike soared above the crossbar.
Di Marco's persistence continued with yet another attempt, but the ball once again eluded the target in the 66th minute. In a tactical move, Inzaghi introduced three new players in the 67th minute. Lautaro, however, stole the spotlight with his second goal in the 76th minute. Receiving Mkhitaryan's pass from the left, Lautaro expertly found the net, extending Inter's lead.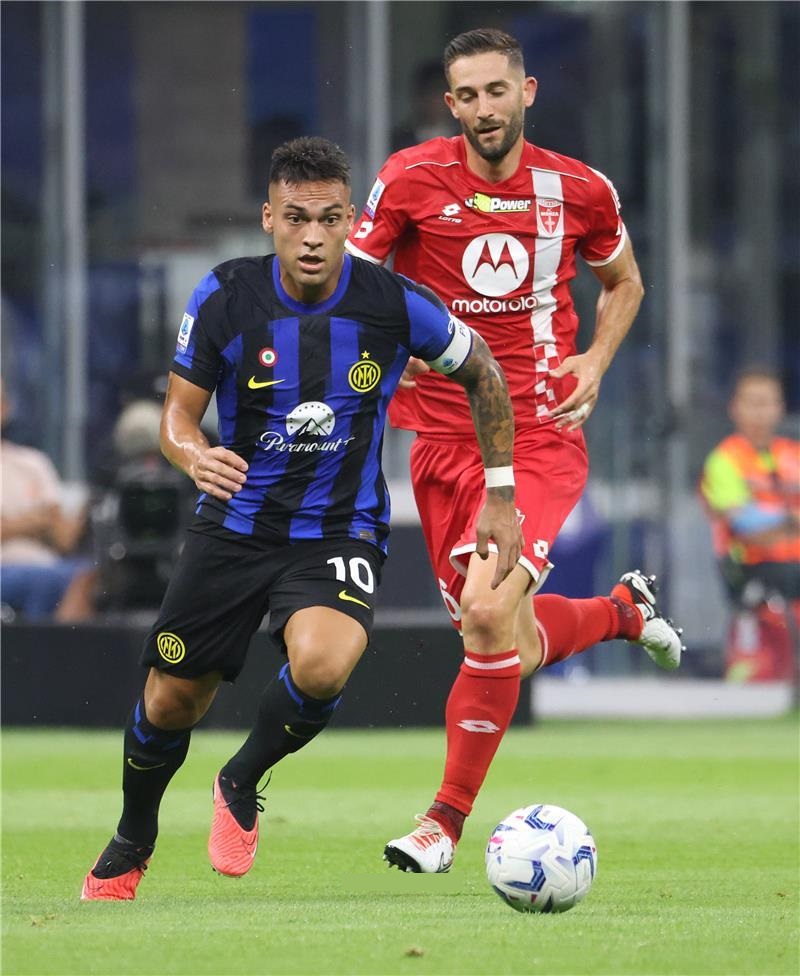 Closing Moments:

Despite Monza's efforts to narrow the gap, Inter's defense held strong. Substitute Augusto nearly secured a third goal in the 88th minute, narrowly missing a header from Hakan's corner kick. The final minutes passed without incident, confirming Inter's resounding 2-0 victory.
Conclusion:

In an exhilarating clash, Inter Milan showcased their prowess, securing a convincing 2-0 win against Monza. Captain Lautaro Martinez's brace proved instrumental in steering Inter to an impressive season-opening triumph.