Goals: Italy – England – Played on 03/23/2023
The England national team defeated Italy (2-1), this evening, Thursday, at the Diego Maradona stadium in Naples, at the top of the first round of the Euro 2024 qualifiers.
Declan Rice advanced to the England national team in the 13th minute, before Harry Kane added the second goal from a penalty kick in the 44th minute, and Matteo Retigi scored Italy's only goal in the 56th minute.
After losing to Italy in the final of Euro 2020 and the European Nations League, the England national team took revenge on the Azzurri at home and beat it (2-1) in Group C competitions.
The Azzurri pressed hard in the first minutes and tried to reach Beckford's goal, but without danger, then Saka penetrated and hit a weak ball that Donnarumma caught.
And from a quick counterattack, the ball reached Bellingham, who fired a missile shot from a distance, which Gianluigi Donnarumma starred with and turned it away for a corner.
Saka executed the corner and passed in front of everyone to reach Harry Kane to hit the ball, hitting the defense and reaching Rice in front of the six-yard area, to shoot into the net.
Phillips received the ball after Bellingham succeeded in cutting it from Jorginho, to fire a creeping ground shot that passed next to the post out of the field.
And Saka executed a corner on the far post to reach Kane, who interfered with Di Lorenzo, so that the ball touched the latter's hand, and the referee returned to the video technique.
The referee decided to award a penalty kick to the Three Lions, and Harry Kane successfully scored it on the left side, after Donnarumma sent it to the right corner.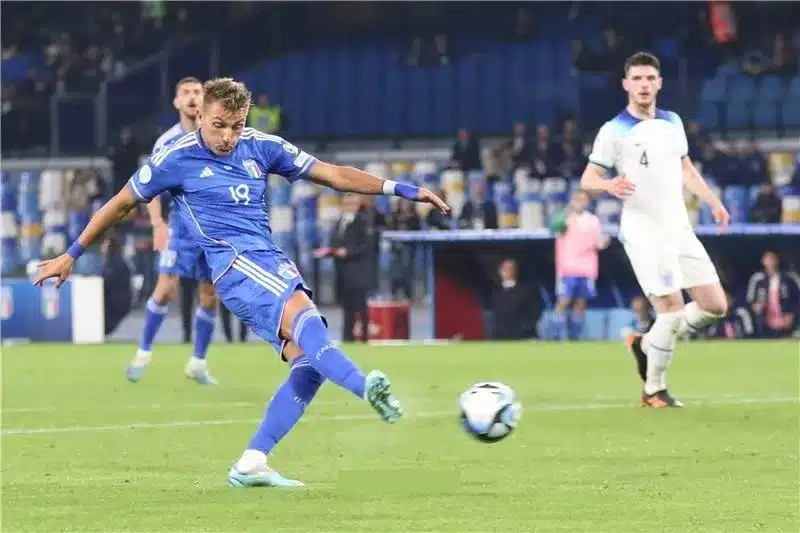 Kane passed inside the area to Grealish, who hit the ball in a strange way to waste the third goal, then the first half ended with the Three Lions advancing (2-0).
And Italy had the opportunity at the beginning of the second half to try to reduce the score, after Verratti passed to Pellegrini, who hit a ball that went over the goal.
And Pellegrini passed on the border of the area to Retigi, who calmly hit the ball into the net to score the first goal for Italy.
Marco Verratti penetrated and fired a missile from the edge of the penalty area, but defender John Stones intercepted it to pass away.
Substitute Wilfried Genonto passed a cross that was very dangerous after Politano almost met her with a header into the net, but it passed in front of him.
Luke Shaw got the second yellow card in the 79th minute, then the red card to leave, and the English completed the match with 10 players, then the match ended (2-1).