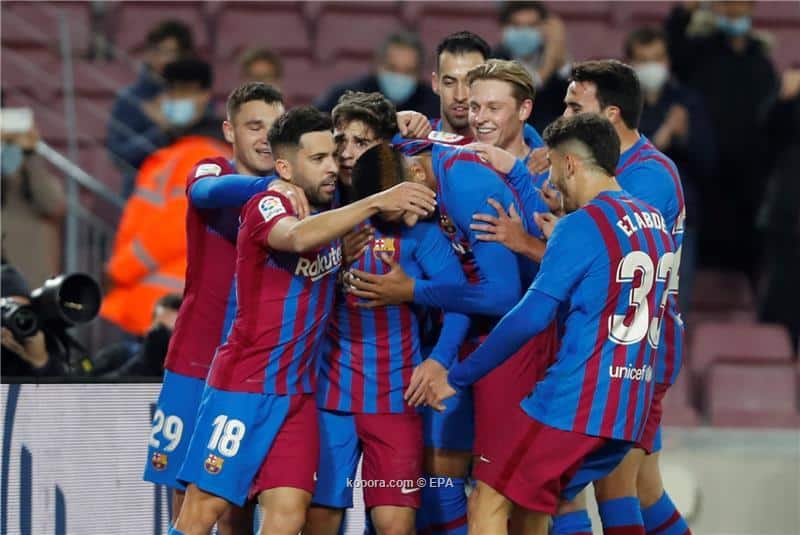 Barcelona beat Deportivo Linares
This evening, Wednesday Barcelona achieved a 2-1 victory over Deportivo Linares, as part of the 32nd round of the King's Cup.
Barcelona's goals were scored by Osman Dembele and Ferran Gutgla in the 63rd and 69th minutes. While Hugo Diaz scored Linares' only goal in the 19th minute.
With this victory, the Blaugrana decided their passage to the eighth final.
First Half
The match started with pressure from Barcelona, ​​where Araujo almost scored from a header. But it passed just above the goal, in the 5th minute.
Elias Akhmash received a pass from his colleague Nico and hit a powerful ball that passed over Linares' goal in the 18th minute.
Hugo Diaz scored the first goal for Linares in the 19th minute, receiving a cross from his colleague Carniser and hitting a header under the right of goalkeeper Neto.
Nico hit a powerful shot from outside the penalty area. But Linares goalkeeper Prima Razak saved it easily in the 24th minute.
Barcelona's attempts to adjust the result continued, with a shot from Gutgla. Which passed by the post in the 28th minute.
Jordi Alba hit a missile ball, which was saved by Linares goalkeeper Prima Razak and turned into the corner in the 44th minute. And the first half ended with Linares advancing with a goal without reply.
Second Half
At the start of the second half, Linares' Carracedo hit a powerful ball from outside the area. Which reached the hands of Barcelona goalkeeper Neto.
Ousmane Dembele received a pass on the edge of the penalty area and sent an arched shot into the net in the 63rd minute.
Robben of Linares scored the equalizer for his team in the 67th minute. But the match referee canceled it for offside.
Gutgla almost scored Barcelona's second goal in the 68th minute. When he hit a powerful ground ball that passed the right post.
Ferran Gutgla added the second goal for Barcelona in the 69th minute. As he received a pass from Nico Gonzalez on the left side. And went with an individual effort and shot into the net.
Barcelona continued to dominate the match, with weak attempts by Linares to return the result again, ending the match with the Catalan team crossing.
More News
Real Madrid open 2022 by falling to Getafe
Thrilling draw rules Chelsea and Liverpool signing
Barcelona conquer absences with precious victory over Mallorca