On Wednesday, Liverpool suffered a 1-0 loss to the Austrian team RB Salzburg.
The Community Shield final starting lineup has been teased by Klopp,
Nunez is still developing, and Sesko, a target for Manchester United,
makes an impression. FIVE LESSONS from Liverpool's 1-0 loss to RB Salzburg
Liverpool opened the game with a lineup that was mostly made up of reserves,
and they struggled in the first half.
Manchester United target Benjamin Sesko scored the game's only goal.

Darwin Nunez failed to hit the target but demonstrated that he will have many opportunities.

The team led by Jurgen Klopp will now focus on Saturday's Community Shield final.
Liverpool will be coming off a loss following
a lacklustre performance against RB Salzburg into their Community Shield final matchup with Manchester City.
The hosts won 1-0 thanks to a goal from Benjamin Sesko,
and Jurgen Klopp's lineup that night provided a preview of his starting lineup for Saturday's match against Pep Guardiola's club.
and will enter the Community Shield final on a losing streak.
Klopp makes a suggestion about the Community Shield team.
In their final friendly before competing for trophies this weekend,
Liverpool had an intriguing starting lineup.
Against the Austrian team,
Jurgen Klopp elected to start with backup players before bringing on many of his star players in the second half.
At the hour mark, Mohamed Salah,
Luis Diaz, Thiago, Jordan Henderson, Virgil van Dijk, Joel Matip,
and Trent Alexander-Arnold all entered the game. Andrew Roberson entered the game shortly after halftime.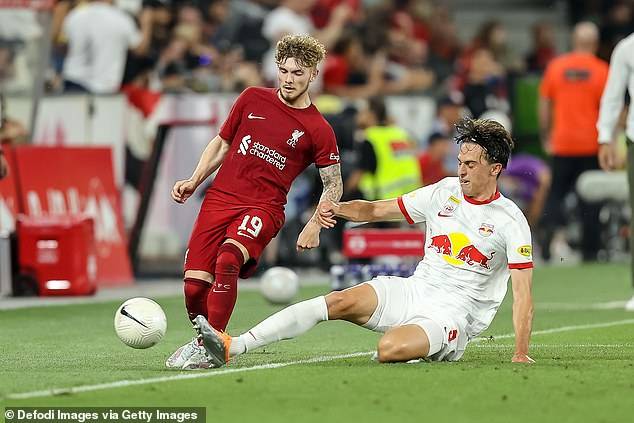 Due to their shorter playing time against Salzburg,
the Scotland captain and those who entered the game after 60 minutes all seem destined to start against Manchester City on Saturday.
Who plays down the centre for Liverpool on Saturday will be a key question.
Darwin Nunez played for the opening 45 minutes before being substituted by Roberto Firmino.
There is no guarantee that the £85 million acquisition will take the field for this weekend's match,
and it's possible that Klopp decides to start his trusted Brazilian player instead considering
that he previously played with other Reds stars who are expected to face Pep Guardiola's team.
Nunez is currently being developed.
Rarely has a player's evaluation been made as quickly as Darwin Nunez, who cost Liverpool £85 million to sign.
During Liverpool's first preseason games,
the Uruguayan striker appeared to lack confidence in front of goal, but he quickly recovered with an incredible four-goal performance against RB Leipzig.
Nunez made his debut against RB Salzburg,
and even though he was unable to score, there were still positives to take away from his performance. In the first half,
he was the most alert player wearing Red.
At the Red Bull Arena, Liverpool took some time to get going, but when they did,
Nunez and Harvey Elliott were right in the middle of the action.
The Reds trailed 1-0 at the half, but Nunez was in position to complete a hat trick.
He did a fantastic job of taking the ball down under pressure,
but with the defender on the ground,
he was unable to completely get it out of his feet before it was taken away.
Nunez then missed a wonderful opportunity after being assisted by Isaac Mabaya.
His first-time effort on the turn blasted a Salzburg defender to the ground.
The 23-year-old made a strong connection with Naby Keita,
who then sent him through before Salzburg's Bernardo
made an outstanding block to prevent him from taking a shot on goal.
Despite the fact that Nunez's previous two performances have been encouraging, it will take him some time to find his footing at Anfield.
He has produced a lot of chances
and been particularly successful with his runs in behind the defence in games against both Red Bull sides.
However, it would be interesting to see if Klopp starts him against Manchester City on Saturday.
Elliott is still impressive.
Many Liverpool supporters believed Harvey Elliott was prepared to make the jump and be a part of their first-team
ambitions last year after he spent the 2020–21 Championship season on loan with Blackburn Rovers.
He had a few starts at the beginning of last season before suffering a terrible ankle injury against Leeds in September that put an end to everything.
The 19-year-old has been one of Liverpool's better players this month,
and his preseason displays have undoubtedly bolstered the claim that he is prepared for first team action.
It will be intriguing to see if Klopp starts him on Saturday against Manchester City.
Elliott continues to impress.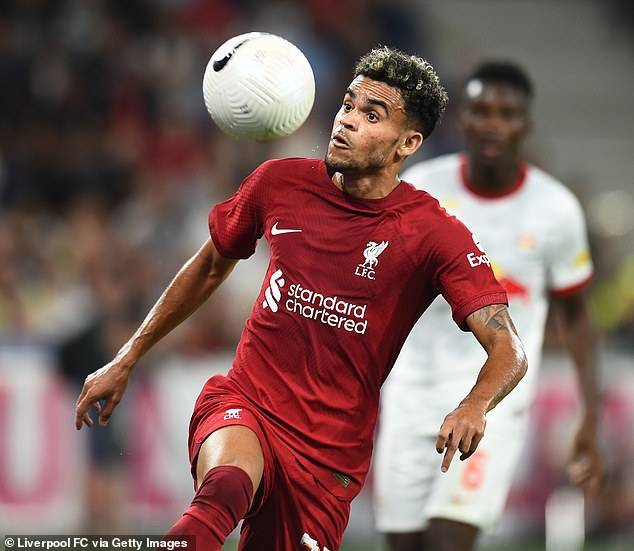 Harvey Elliott spent the 2020–21 Championship season on loan at Blackburn Rovers,
and many Liverpool fans thought he was ready to make the transition and contribute to their first-team goals last year.
Prior to suffering a devastating ankle injury against Leeds in September that ended his season,
he got a few starts at the beginning of the previous campaign.
and his preseason performances have surely strengthened the argument that he is ready for first team involvement.
Losers : Darwin Nunez
Nunez's performance against Salzburg turned out to be disappointing, as he appeared agitated during the match due to a number of missed opportunities. In the ninth minute, he had his first real chance to score as he went through on goal but took too many touches before being tackled.
This was a recurring theme throughout the game, as Nunez was unable to score after James Milner's cross and had another attempt saved.
The closest the 25-year-old
came was on the half-hour mark as he made an intelligent run but could not keep his shot down from a tight angle.
Despite the fact that it is still only preseason, Klopp will be hopeful Nunez's inconsistent goal scoring will be fixed before their trip to Fulham.
Darwin Nunez made his debut for Liverpool but was unable to stop the Reds from suffering their second preseason defeat,
losing 1-0 to Austrian team Red Bull Salzburg.
Jurgen Klopp fielded a reserve team for Liverpool's final preseason game before Saturday's Community Shield match against Manchester City in Austria,
although the club's star acquisition Nunez started after scoring four goals against RB Leipzig the previous week.