Manchester City Clinches Premier League Title with Victory over Chelsea
Introduction: Manchester City celebrated their third consecutive English Premier League title by defeating Chelsea 1-0 in the 37th round of the competition. Julian Alvarez scored the winning goal in the 12th minute, securing City's fifth title in the last six seasons. With this victory, City reached 88 points at the top of the table, while Chelsea remained in 12th place with 43 points.
Manchester City's Winning Formation
Manchester City manager Pep Guardiola employed a 4-3-3 formation, with Emeric Laporte and Manuel Akanji in defense, supported by Kyle Walker and Sergio Gomez. Calvin Phillips played as the holding midfielder, with Cole Palmer and Rico Lewis ahead of him. Riyad Mahrez, Phil Foden, and Julian Alvarez formed the attacking trio.
Chelsea's Tactics
Chelsea coach Frank Lampard opted for a 3-4-1-2 formation, with Trevoh Chalobah, Thiago Silva, and Wesley Fofana in defense. Cesar Azpilicueta and Louis Hall played as wing-backs, while Ruben Loftus-Cheek and Enzo Fernandez controlled the midfield. Connor Gallagher supported the attacking duo of Raheem Sterling and Kai Havertz.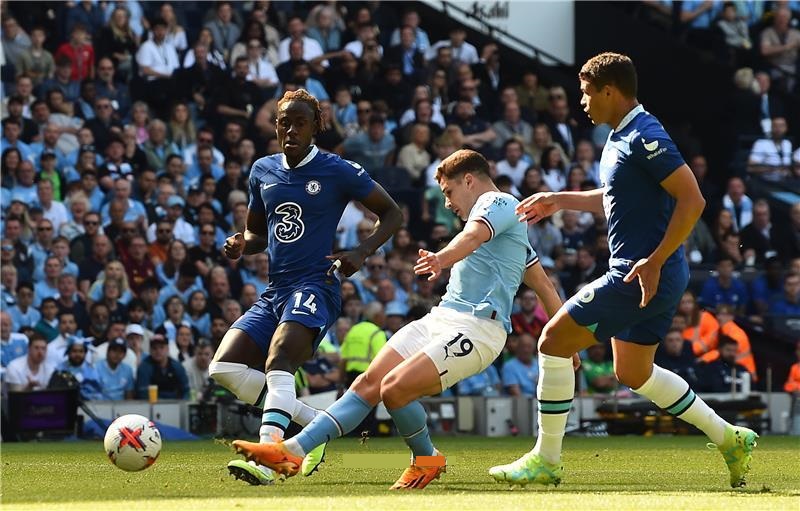 Alvarez's Decisive Goal
Manchester City created several scoring opportunities, with Mahrez and Gomez coming close to scoring. However, it was Julian Alvarez who broke the deadlock, receiving a pass from Palmer and slotting the ball into the right corner of the net.
Tense Moments and Near Misses
Both teams had chances to score, with Sterling's shot saved by Stefan Ortega and Gallagher's header hitting the post. In stoppage time, Chelsea was awarded a free kick, but the resulting shot deflected off Lewis and Sterling failed to convert the rebound.
City Holds On to Secure Victory
Raheem Sterling and John Stones made crucial defensive contributions to protect Manchester City's lead. Chelsea made substitutions, but their attempts to equalize were unsuccessful. The referee disallowed Alvarez's goal due to a handball, and Erling Haaland replaced Mahrez for City. The match ended with Manchester City emerging as 1-0 winners.
Conclusion: Manchester City's victory over Chelsea solidifies their status as the Premier League champions for the third consecutive year. Their dominant performance throughout the season, combined with Julian Alvarez's decisive goal, secured their title triumph. Despite the defeat, Chelsea fought hard but couldn't find a way past City's resilient defense. This memorable win marks another remarkable chapter in Manchester City's recent success and confirms their position as one of England's top football clubs.