Goals: Man City – Newcastle United – Played on 08/19/2023
Introduction:
Manchester City, the reigning champions, continued their winning streak in the English Premier League with a hard-fought 1-0 victory over Newcastle United in the second round. Argentine talent Julian Alvarez's lone goal secured the three points for City, maintaining their strong start to the season.
Tactical Lineups:
Manchester City, under the guidance of Pep Guardiola, adopted a 4-2-3-1 formation. The defense was fortified by Akanji and Diaz, flanked by fullbacks Walker and Guardiol. Kovacic partnered with Rodri in the midfield, while Alvarez, Foden, and Grealish supported the prolific Erling Haaland in the attack. On the other hand, Newcastle, led by Eddie Howe, employed a 4-3-3 strategy, with Guimaraes as the pivot player, accompanied by Tonali and Joelinton in midfield, and a forward line consisting of Almiron, Isaac, and Gordon.
Alvarez's Decisive Strike:
The match saw Manchester City's early efforts as Grealish's penetrating run in the 9th minute led to a shot that deflected off the defense. Walker and Akanji followed up with attempts that narrowly missed the target. However, it was in the 31st minute that Alvarez made his mark, capitalizing on Foden's precise pass from the right to fire a goal beyond the reach of goalkeeper Nick Pope.
Newcastle's Response and Defensive Challenges:
Newcastle tried to rally, with Gordon's cross finding no takers and Joelinton's shot being blocked by City's defense. Despite their endeavors, Newcastle struggled to breach City's solid backline. Trippier's cross provided a chance for Gordon, but his hesitation allowed City's defense to clear the danger.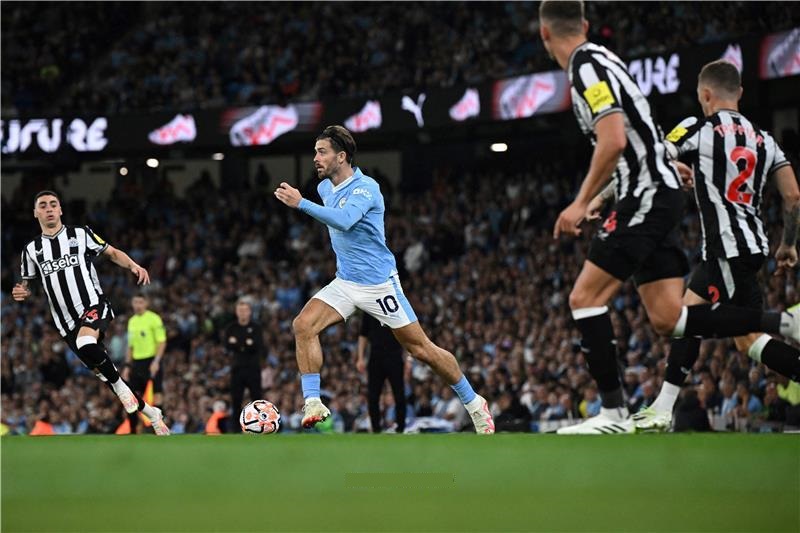 Erling Haaland's Near Misses:
Haaland, the towering striker, came close to extending City's lead. He received a long pass from Ederson but directed his attempt wide of the post. He later received a well-timed pass from Foden, only to be denied by goalkeeper Nick Pope's swift reaction.
City's Defensive Fortitude and Final Whistle:
Manchester City's defensive resilience shone as they thwarted Newcastle's attempts. Ederson comfortably saved Barnes' shot, and Newcastle's field domination lacked the necessary threat. Manchester City almost secured a late goal when Haaland set up Foden, whose shot was parried away by goalkeeper Pope.
Conclusion:
Manchester City's triumph over Newcastle United hinged on Julian Alvarez's precise finish, showcasing their ability to secure wins even in tightly contested matches. The victory further solidifies Manchester City's standing in the league, setting a competitive tone for the rest of the season.