Gareth Southgate will be forced to confront an unpleasant rewriting of history as he digests England 's worst home defeat in more than 90 years,
but he will also have to contemplate whether his Nations League experiment
has taken the Three Lions backwards with the World Cup looming on the horizon.
England hasn't been beaten so badly at home since a 5-1 loss to Scotland in 1928,
and this is only their second home loss to Hungary since the Magical Magyars' legendary 6-3 triumph at Wembley in 1953.
Watch the huge win of Hungary to England!!
It brings an end to an international break in which Southgate's side has only scored once in four games,
a Harry Kane penalty in a 1-1 draw with Germany,
and England has gone four games without a win for the first time since 2014.
Now, the second most successful manager in England men's football history,
who took his team to a World Cup semi-final and came within a penalty shootout of winning the Euros last summer,
has just two games in September to re-establish his team's confidence before heading to Qatar.
"It's been a trying night," Southgate added.
"We haven't lost many football matches, and losing by such a large margin, especially at home against England, is going to be really difficult.
"I'm quite clear about what works and what doesn't work for us as a group – this is a challenging night.
"My forefathers have experienced evenings like these, and I've seen them from the couch as a youngster and as a player,
so I know what it's like.
However, you can't just be in the front while things are going well and not speak up when things go wrong. That's a part of football, and it's a part of life, too."
Former Liverpool defender Stephen Warnock,
speaking on 5 Live, suggested England is running out of time to address any issues before the World Cup.
"What if this happens again in September,
and you have two performances when the squad appears to be in disarray?" he wondered.
"Then you'll have to adjust it, and you won't give the manager enough time to put his style into practise. I didn't see England play tonight, and I haven't seen them play in the last four games.
"I've never wanted a manager fired, but I'm not sure he's the right person for the job. Other candidates will be more fit for the job, and Gareth Southgate will be put under pressure tonight.
England suffers a HUMILIATING 4-0 defeat at home to Hungary,
their worst at home since 1928, to cap a dreadful run of Nations League matches and heap pressure on Gareth Southgate.
Some admirers have made up their minds already. 'You're going to get fired in the morning,' screamed enraged fans as England was humiliated at home.
It won't come to that;
England manager Gareth Southgate has time to come up with a response ahead of a World Cup in which his team has a legitimate chance of winning.
But here in Wolverhampton on Tuesday night,
it was a sobering experience. It was a crushing defeat, England's worst since 1928.
Make no mistake: the psychological wounds from this will last a lifetime. But, more importantly, it will raise doubts.
The visitors had a night to remember,
as they were clinical in front of goal and currently sit atop a strong Nations League group.
After England failed to clear their lines from a free-kick into the box,
Roland Sallai gave Hungary the lead in the 16th minute.
After a mistake in midfield by Kalvin Phillips, Sallai scored his and Hungary's second goal in the 70th minute.
England's players appear shell-shocked after imploding in the closing 20 minutes of their Nations League match at Molineux.
Hungary soared into dreamland in Wolverhampton on Tuesday, thanks to a sensational third goal from Zsolt Nagy.
In the latter moments, John Stones was sent off for a second yellow card,
and the hosts finished the game with ten men.
Hungary as a stand-in The visitors added the frosting on the cake when Daniel Gazdag scored their fourth goal over Aaron Ramsdale.
Only five months before the World Cup,
England experienced a 4-0 home defeat to Hungary that was both astonishing and humiliating, as supporters turned against Gareth Southgate and his team.
After failing to win any of June's four fixtures, the Three Lions leader has plenty of food for contemplation after failing to reach the semi-finals four years ago and finishing as Euro 2020 runners-up.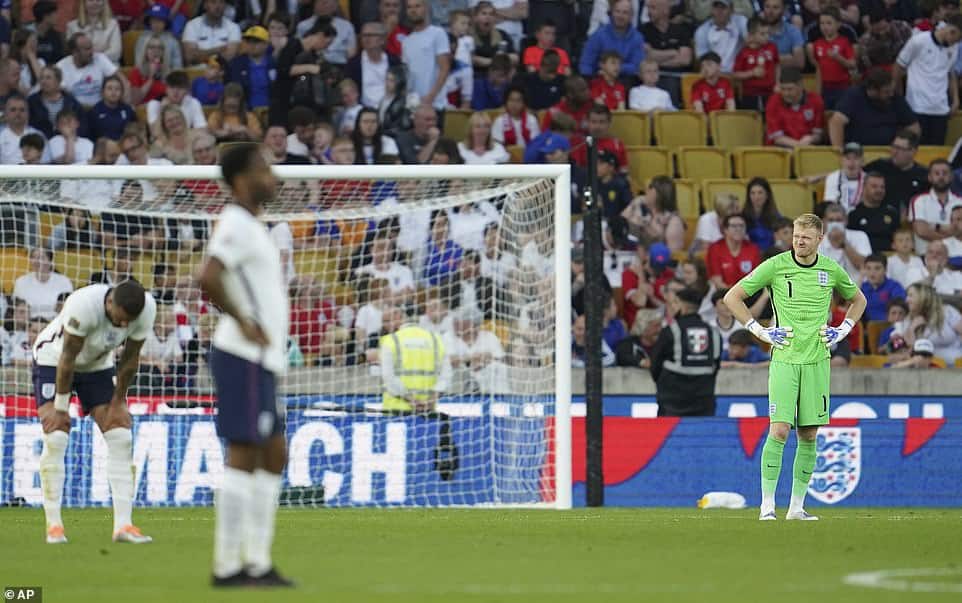 The draws against Germany and Italy were sandwiched between a memorable Hungary double, with a 1-0 win in Budapest – their first over England since 1962 – and a Molineux bloodbath.
On a night when fans booed the squad and yelled "you don't know what you're doing" at Southgate, Roland Sallai's brace was supplemented by a Zsolt Nagy screamer and – just after John Stones' red card – Daniel Gazdag's calm finish.