In the third round of the Champions League group stage on Wednesday, Real Madrid's, the defending champion, defeated its visitor Shakhtar Donetsk, 2-1, at the Santiago Bernabeu.
Watch wonderful night with goals of Real Madrid and Shakhtar!!

In the 13th and 28th minutes, Real Madrid scored twice through Rodrigo Goes and Vinicius Junior.
Then, In the 39th minute, Oleksandr Zubkov scored a goal for Shakhtar Donetsk.

With this win, Real Madrid increased its lead over Shakhtar in the group standings to 9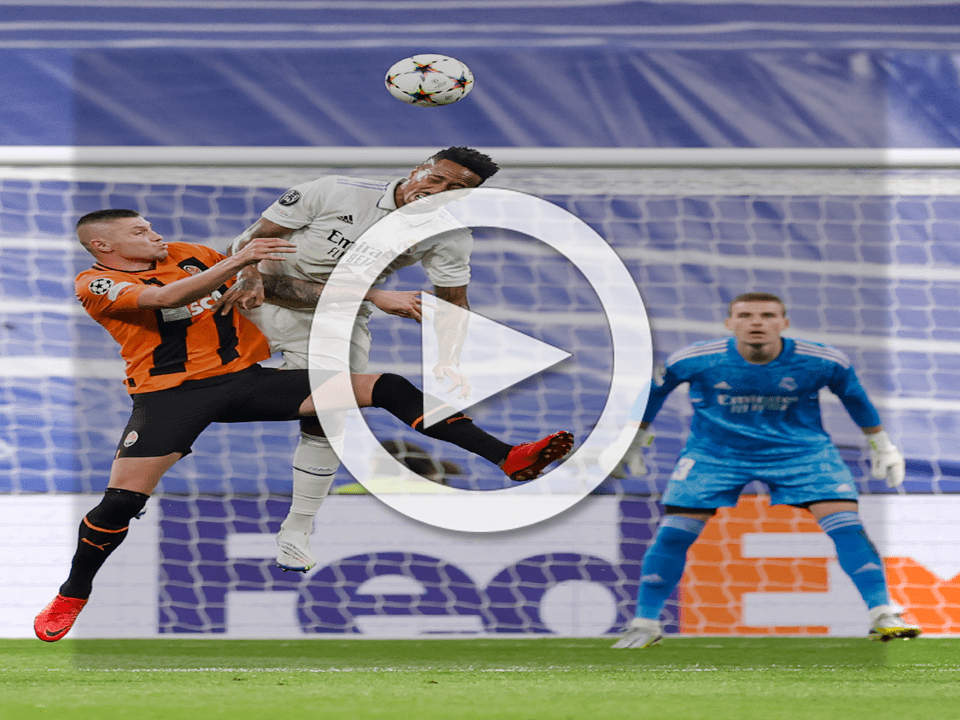 points, while Shakhtar's score remained unchanged at 4 points.
Real Madrid made many efforts in the opening minutes of the game before Rodrigo Goes scored the
opening goal for the royal squad in the 13th minute.
On the edge of the Shakhtar penalty area, Rodrygo received a pass from Chuamini.
He attempted to pass it, but it hit one of the defenders and bounced back to him, allowing
him to score Real's opening goal.
Following that, Karim Benzema received a cross from the right side from Fede Valverde and shot directly at the goal.
In the 28th minute, Vinicius Junior scored Real Madrid's second goal after receiving a pass from his countryman Rodrygo. He was the only player in the goal and sent the ball into the back of the net.
In the 34th and 36th minutes, Vinicius Junior and Karim Benzema both had shots that were blocked by Shakhtar goalie Tropin.
Oleksandr Zubkov scored the opening goal for his team Shakhtar Donetsk in the 39th minute after receiving a cross inside the box and shooting the ball past goalie Andrei Lunin.
Real Madrid won the first half with a score of two goals to one. At the start of the second half, Alaba crossed the ball into the area for Vinicius, who headed the ball next to the left post in the 48th minute.
Moreover, Real Madrid player Fede Valverde shot a hard ball from outside the box, which he stopped. Goalkeeper for Shakhtar in minute 53
In the 57th minute, Rodrygo headed a cross away from Shakhtar's goal after the referee gave Real Madrid an indirect free kick from beyond the penalty area by Alaba.
After receiving a pass inside the penalty area, Vinicius Junior struck the left post in the 65th minute.
Up to the final minute, Meringue maintained control of the game, winning a crucial victory and keeping the advantage.