Roma champions of the European Conference
On Wednesday evening, Roma won the first edition of the European Conference League after beating Feyenoord Rotterdam (1-0), in the final match of the tournament.
Watch the goals of the match Roma vs Feyenoord
However, Roma midfielder Nicolo Zaniolo scored the only goal of the match in the 32nd
minute of the match.
Despite the enthusiasm that appeared on the players of the two teams, especially
Feyenoord, in the first seconds of the match, the chances were completely absent on the
two teams' goals, with the play being restricted to short passes in the middle of the field.
Roma champions of the European Conference: Trophy Celebration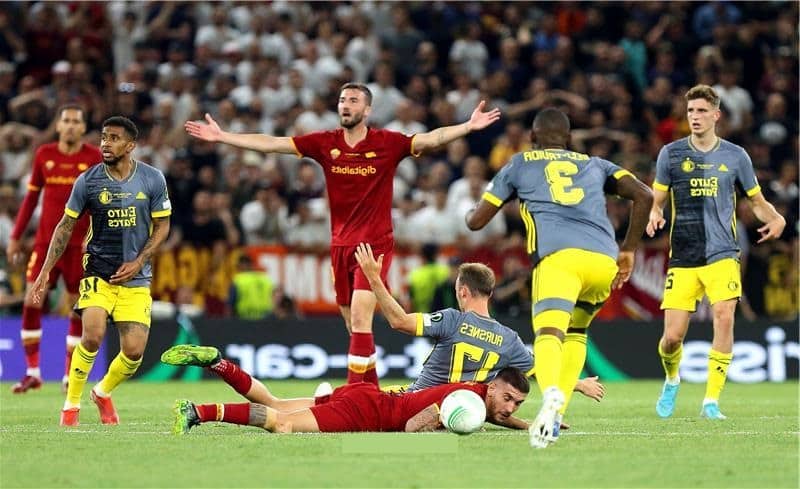 Roma champions of the European Conference
Henrikh Mkhitaryan injured in the 15th minute, as he fell on the field and failed to
complete the match, to go out and push coach Jose Mourinho to replace him with Sergio
Oliveira.
Furthermore, in the 32nd minute, Roma managed through Nicolo Zaniolo to score the only goal, after a long ball from defender Mancini passed from Feyenoord defender Trauner,
That Zaniolo received and put it in the goal with the net with a wonderful touch.
The first threat to Feyenoord came in the 40th minute after the ball reached Orkun Kokcho,
who fired a powerful shot from outside the area, which goalkeeper Patricio Ali saved twice.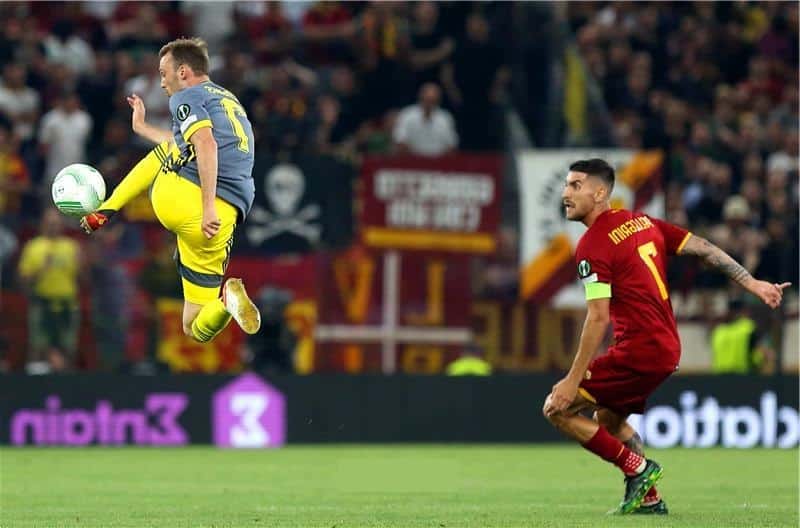 Surely, Feyenoord had a double chance in the second minute of the second half,
after a corner executed with a pass inside the area to hit one of the Roma defenders
and hit the left post of the Wolves goal, and rebounded to be followed by Till with a shot,
but Patricio starred and sent it away for a corner.
However, Patricio returned to shine again, depriving Feyenoord of the equalizer in the 50th minute,
after a more than excellent collective game between the feet of the Dutch team's players,
to reach Malacia, who fired a missile shot at Patricio and blocked it, hitting the post
and going out to a corner.
After more than 25 minutes of the second half, finally threatened Feyenoord's goal
A corner was executed inside the area that dispersed the defense to reach Jordan Vertu,
who fired a shot from the edge of the penalty area, and Justin Bello Blocked it.
Striker Luis Sinistera tried to shoot the ball in the 81st minute when it reached him on the edge of the area, but the shot easily reached the arms of the Roma goalkeeper.
And amid Rome's reliance on counter-attacks, a dangerous opportunity arose for Wolves in the 85th minute, after the ball reached Pellegrini, who hit a powerful ball towards the goal, but Feyenoord's goalkeeper saved it.
The rest of the minutes passed without anything new, and the meeting ended with Roma winning and crowned champion of the European Conference League.