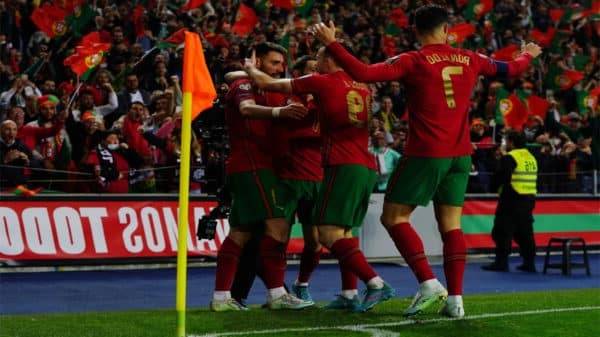 Ronaldo and his companions finished the adventure of the North Macedonia national team in the European qualifiers for the finals
World Cup 2022
The Portuguese national team managed to win the precious 2-0 on Tuesday
in the final of the third track in the European play-off separator in the qualifiers
And the Portuguese national team booked its place in the finals,
deservedly to become the eleventh representative of the European continent in the Qatar World Cup.
Manchester United star Bruno Fernandes scored the two goals in the 32nd and 65th minutes
To raise his tally in the current qualifiers to three goals,
and his balance with the Portuguese national team in general to eight goals.
The Portuguese national team became the 23rd team to reserve its place in the Qatar World Cup after the Qatari team represented the host country
And the teams of Germany, Denmark, France, Belgium, Croatia, Spain, Serbia, England, Switzerland and the Netherlands from the European continent
Brazil, Argentina, Ecuador and Uruguay are from South America
Iran, South Korea, Japan and Saudi Arabia are from Asia, and the Ghanaian and Senegalese teams are from Africa.
So.
And the Portuguese national team is playing for the sixth consecutive time and the eighth in its history, knowing that the best result of the team was in the 1966 edition in England when it finished third.
Now there is an opportunity for the famous Portuguese star,
Cristiano Ronaldo, 37, to participate in the finals for the fifth time in a row
Note that the player started his international career with the Portuguese national team in 2003 and participated in the World Cup for the first time in the 2006 edition in Germany.
Here, On the other hand,
North Macedonia failed to reach the World Cup for the first time in its history, as it had never participated in the World Championship.
The North Macedonia national team blew up a heavy-caliber surprise in the semi-finals of this decisive play-off, as it achieved a 1-0 victory over its Italian host.
The European champion to deprive him of qualifying for the World Cup for the second consecutive year,
Now, the Macedonian team fell in the last test today and bid farewell to the qualifiers empty
-handed despite the good match it played against Portugal.