Goals: Scotland – Spain – Played on 03/28/ 2023
The Scotland national team secured a crucial victory against Spain in the second round of the Euro 2024 qualifiers. The match took place at Hampden Park on Tuesday evening and ended with a 2-0 scoreline in favor of Scotland. McTominay scored both goals for Scotland in the 7th and 51st minutes.
This victory has pushed Scotland to the top of the group with 6 points, while Spain is in the runner-up position with 3 points. The match started with pressure from the hosts, and Spain's Pedro Boro made a fatal error, allowing Robertson to cut the ball and pass it to McTominay, who shot directly into the net of goalkeeper Kepa, giving Scotland the lead in the 7th minute.
Scotland's Christie almost added a second goal in the 15th minute with a powerful shot on the edge of the penalty area, but it hit the right post of goalkeeper Kepa Arrizabalaga. Spain's first attempt to threaten Scotland's goal came in the 20th minute, but Joselo's header was caught by the goalkeeper.
In the 23rd minute, Pedro Porro's header inside the penalty area hit the crossbar, preventing Spain from scoring the equalizer. The match was intense and both teams had several chances to score, but Scotland's defense held strong, securing a well-deserved victory.
This win will undoubtedly boost Scotland's morale and give them confidence as they continue their journey toward the Euro 2024. It was a great performance by the Scotland national team, and McTominay's brace was undoubtedly the highlight of the match.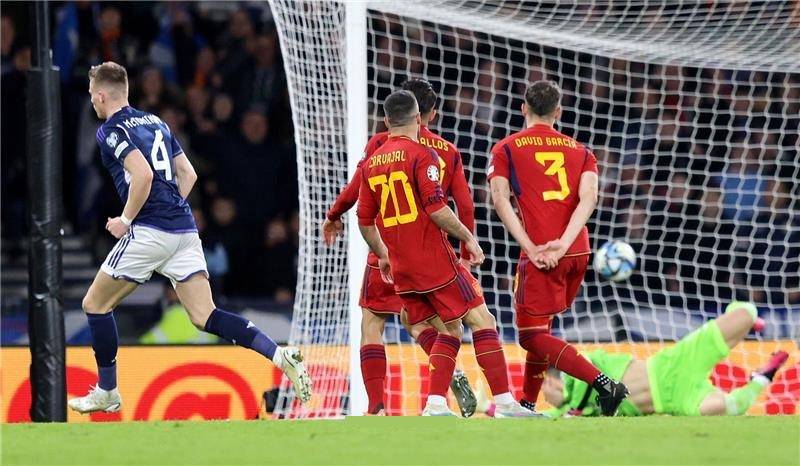 In the 30th minute, Pedro Boro sent a ball from outside the penalty area that goalkeeper Angus John expertly stopped and turned into a corner.
And in the 46th minute, Scotland's striker Dykes had a chance to score a second goal after a swift counterattack when he got the ball deep in the Spanish defense and started running toward goalkeeper Keba. Instead, Dykes shot a falling ball over the crossbar.
After a critical error by Danny Carvajal, Tierney cut the ball and ran off, sending a cross that David Garcia attempted to deflect, but it got in front of McTominay, who aimed directly below the right of goalkeeper Reina, to score Scotland's second goal in the 51st minute.
And Spain's head coach, Luis de la Fuente, tried to energize the offensive line by giving Aspas, Iglesias, and Jaffe money.
La Roja lost 3 crucial points in his qualifying despite the matador's increasing attempts to lower the score.