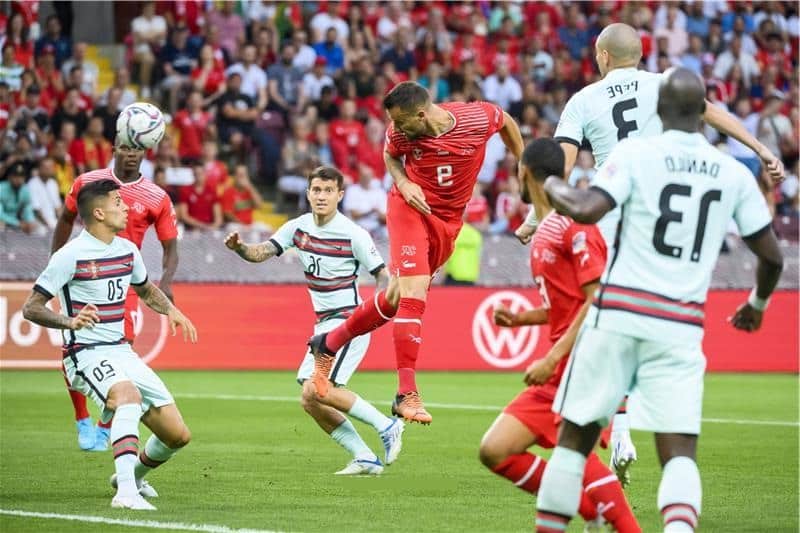 Watch the goals of the Portugal -Switzerland Republic match
Switzerland beat its host Portugal, 1-0, on Sunday evening, in the match that was held at the Geneva stadium, as part of the fourth round of the group stage of the first level of the European Nations League.
With that result, Switzerland scored the first 3 points in Group B to the bottom of the standings, while Portugal froze at 7 points, dropping to second place.
Switzerland opened the scoring early in the first minute, after Fedmir sent a cross from the right side, followed by Seferovic with a header that headed into the net.
Portugal tried to respond quickly in the fifth minute, after Pepe followed a cross from a corner kick, hitting a ball that strayed into the goal.
Portugal started the second half strongly, with a ground kick from Silva from inside the area, which was narrowly blocked by O'Mlin with his foot.
The Swiss response came directly in the 50th minute, with a shot from Freeler outside the penalty area, which passed next to the post.
Portugal returned to form the danger again in the 59th minute, with a shot from Guedic from outside the penalty area, which went wide of the goal.
And from a quick counter-attack, Seferovic Bruy Patricio was single-handedly firing a ground ball from inside the area, which passed near the post in the 62nd minute.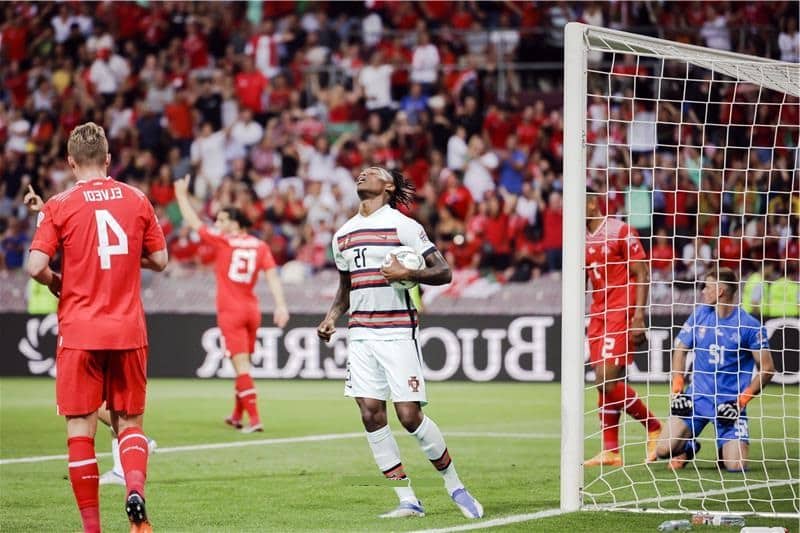 Substitute Bernardo tried to equalize Portugal with a powerful shot from outside the penalty area in the 63rd minute, which was saved by Omlin.
Fernandez made a foul for Portugal in the 67th minute, hitting a powerful ball that was caught by Omlin.
The Portuguese pressure continued to score the equalizer, after Goedic received Peña inside the area in the 72nd minute, firing a direct shot, which the Swiss goalkeeper starred in.
Stephen tried to kill the match by adding a second goal for Switzerland in the 73rd minute, through a shot from the right side of the penalty area, but his ball went wide of the goal.
Jota then rose to a cross in the 78th minute, shooting a header that Omlin brilliance in addressing it.
Cancelo fired a missile in the 79th minute from the edge of the penalty area, slightly over the crossbar.
In the 88th minute, Zubert hit a powerful ball from outside the area, Patricio starred in stopping it.
The ball paved in front of Pepe inside the area, to hit a ground ball that was saved by Omelin with difficulty, followed by Bernardo with a powerful ground shot from the borders of the area, which Omelin caught, and the meeting ended with the victory of Switzerland with a goal without a response.