Switzerland – Cameroon Played on 11/24/2022
The African team physically overcame the game for long minutes and dominated the bands' thanks to their speed, but without being able to show it on the scoreboard. In the end, the Europeans knew how to take advantage of it to strike at the right moment and thus keep their first three points in Qatar 2022.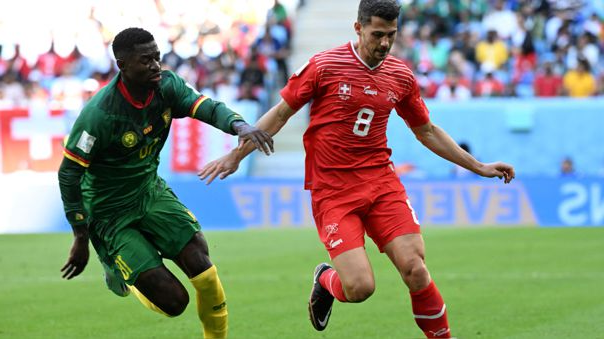 Switzerland and Cameroon opened fire in Group G of the Qatar 2022 World Cup on this day of Thursday, November 24, in what was an entertaining match at the Al Janoub Stadium that the Europeans knew how to win by the minimum to achieve their first three points in this planetary appointment.
The failures and lack of definition in the offense were a constant in the African team, which physically controlled the Swiss and at times overwhelmed them well on the wings, but without being able to capitalize on it with goals in the first half.
The first chances were precisely for the Indomitable Lions, first at 9′ with a double shot from Mbeumo and Ekambi after a good first intervention by goalkeeper Yann Sommer. Four minutes later Choupo-Moting went at speed but lost the duel before the good bailing of the Swiss goalkeeper.
The Europeans also had theirs near the end of the first half with a corner kick that Akanji failed to connect quite well with his head, sending the ball near the left post.
Así las cosas la apertura de la cuenta por parte de Suiza llegó casi recién iniciado el segundo tiempo. Minuto 47 y una buena triangulación termina con un centro raso de Xherdan Shaqiri que Breel Embolo conectó de forma inmejorable a la entrada del área chica para superar la resistencia del portero André Onana. Los cameruneses perdonaron mucho y los suizos supieron aprovecharlo.
Los europeos tuvieron para hacer el 2-0 al minuto 66', pero la figura del meta Onana se agigantó para detener el disparo de Rubén Vargas tras centro de Silvan Widmer, en una jugada de factura casi idéntica al gol visto poco antes.
The lack of precision in the final minutes was a constant in Cameroon, which made merits to at least achieve the tie, but without the necessary firepower to overcome the goal defended by Sommer.
In the end, the 1-0 would not move anymore and Switzerland was left with the first points in dispute in Group G of Qatar 2022.