Barcelona Clinches Hard-Fought Victory Over Cadiz in Spanish League
In a gripping showdown at the "Montjuïc Olympic Stadium," Barcelona secured a demanding 2-0 triumph against Cadiz during the second round of the Spanish League. This victory marks Barcelona's initial La Liga win this season, following a goalless draw against Getafe in the opening round.
Late Goals Seal Victory
Pedri and Ferran Torres emerged as heroes for Barcelona, delivering two crucial goals in the 82nd and 90+4 minutes, respectively. These goals propelled the Catalan team to their first league victory, elevating them to fourth place with 4 points. In contrast, Cadiz remained in eleventh place with 3 points.
Intense Start and Near Misses
From the onset, Barcelona applied pressure, with young talent Lamine Yamal's early appeal for a penalty after a collision with Javi Hernandez in the 5th minute. However, the match referee allowed play to continue. In the 10th minute, Jules Conde unleashed a powerful shot from outside the box, brilliantly parried by Cadiz's goalkeeper Ledesma.
Goalkeeping Brilliance and Defensive Lapses
Ledesma showcased his goalkeeping prowess, thwarting a curved shot from Lamine Yamal in the 29th minute. He continued his brilliance by blocking a surprise attempt from Conde inside the penalty area, turning it into a corner kick in the 33rd minute. A defensive lapse nearly cost Barcelona a goal as Roger Marty capitalized on a catastrophic error but was denied by Ter Stegen.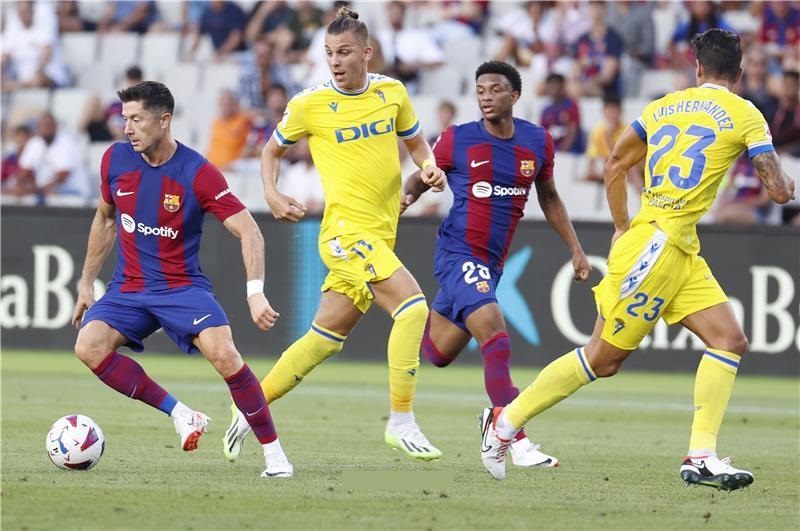 Second Half Drama
The second half brought more excitement as Alcaraz missed a prime opportunity for Cadiz in the 51st minute. Jaffe's header hit the crossbar for Barcelona in the 53rd minute, and Christopher Ramos of Cadiz narrowly missed a shot in the 63rd minute. Lewandowski's header in the 72nd minute grazed the post.
Late Drama Unfolds
In a tense climax, Abdel Samad Al-Zalzouli's powerful shot in the 80th minute was expertly saved by goalkeeper Ledesma. Just two minutes later, Pedri broke the deadlock for Barcelona with a beautifully orchestrated goal, assisted by Gundogan. Ansu Fati's 88th-minute goal was disallowed due to Lewandowski's offside position.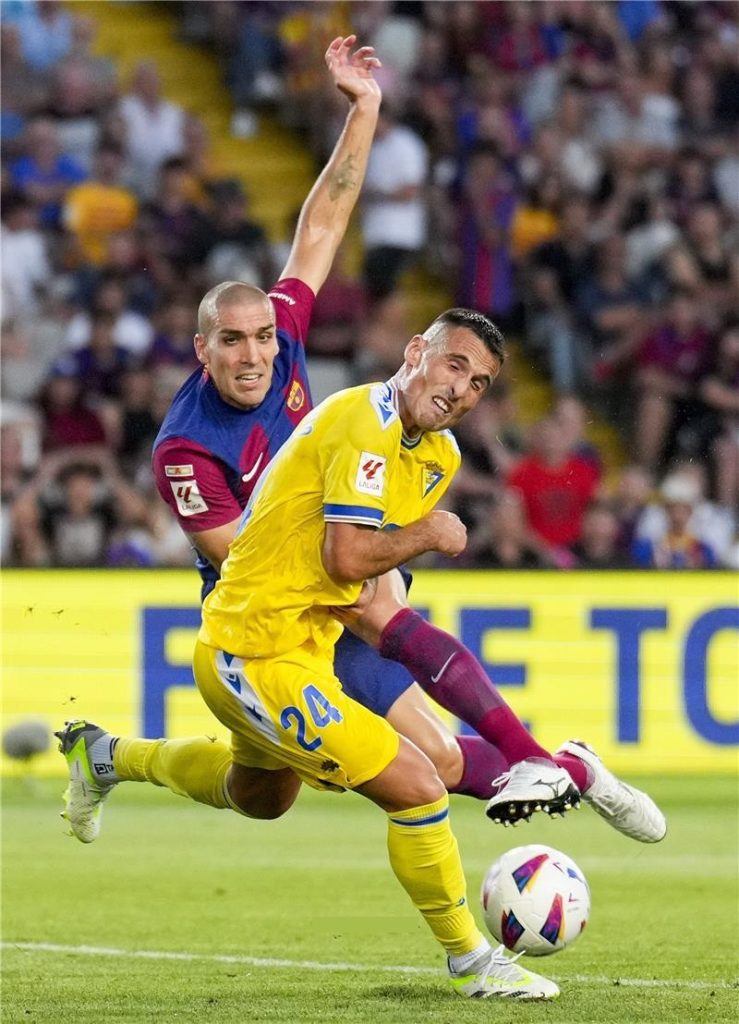 Ferran Torres Seals the Deal
As the match reached its final moments, substitute Ferran Torres sealed Barcelona's victory by embarking on a solo run from midfield, firing the ball into the net.
In this thrilling encounter, Barcelona overcame challenges, displayed exceptional teamwork, and clinched a well-deserved victory against Cadiz in the Spanish League.