Who is the best soccer player, when it comes to selecting the top 10 soccer players of all time,
the game has been gifted with some extraordinary skills, and the list falls far short for many. Here are our choices for the top soccer players of all time, for what it's worth.
1- Pele (1956-1977)
Talking who is the best soccer player, Edson Arantes do Nasciment to give him his full name, is recognized as the best soccer player of all time.
He won the World Cup in 1958, 1962, and 1970. Prior to briefly playing for the New York Cosmos, Pele spent his best years of his career with Santos, where he won numerous championships. Pele, who scored 760 goals in the official league, was a great attacker and ball-handler who could also play effectively with others.
2- Lionel Messi
The Atomic Flea is currently fighting Pele for the title of greatest soccer player ever,
and if the rest of his career is as successful as the first few years,
he will undoubtedly surpass the Brazilian. Messi joined Barcelona at the age of 13, made his debut at the age of 17,and now regularly dazzles the Camp Nou supporters with his dribbling, passing, and goal-scoring prowess.
When he scored an amazing 91 goals in 2012, he beat Gerd Muller's record for most goals in a calendar year.
3- Diego Maradona (1976-1997)
One of the best dribblers the game has ever seen is Diego Armando Maradona.
This flawed genius is best summed up by his "Goal" goal against England at the 1986 World Cup and the breathtaking solo effort that followed. Maradona admits that he did not always follow the rules and that one of his worst memories is being kicked out of the 1994 World Cup after testing positive for ephedrine.
But there was no stopping the Maradona who led Argentina to the 1986 World Cup and led unfashionable Napoli to Serie A victories in 1987 and 1990. Maradona is genuinely a skilled individual. Although some could contend that he wasn't a fully develop player like Pele or Cristiano Ronaldo,
Although some could contend that he wasn't a fully developed player like Pele or Cristiano Ronaldo, soccer is a game that requires more than just strength and speed; it isn't track and field. Nobody else in the world is capable of what Maradona is with a soccer ball, which is what makes him so wonderful. Maradona could accomplish with an orange what Zidane could with a ball.
4- Johan Cruyff (1964-1984)
Many people believe that the outspoken Dutchman, who played for Ajax and Barcelona in the 1960s and 1970s, is the greatest player to ever represent Europe.
His name became connected with the "Total Football" movement of Rinus Michels, In which players switched positions. Cruyff was renowned for his ability to turn players and was adept in both wide and central positions. Three-time Ballon D'Or winner Cruyff won three European Cups with Ajax, eight Dutch championships, and three Ballon D'Ors before making a contentious switch to Feyenoord, one of his fiercest opponents.
5- Franz Beckenbauer (1964-1984)
The only person to lead and coach his team to a World Cup triumph is Der Kaiser.
The German transformed the game when he moved from central midfield to an offensive sweeper position in the early 1970s. In this position, he controlled play from the back by dribbling the ball out of defence and participating in his team's assaults. He spent some time with Pele at the New York Cosmos, but his best years were spent with Bayern Munich, where he won three European Cups and five Bundesliga championships.
6- Cristiano Ronaldo (2001-Present)
In addition to knowing who is the best soccer player, The Portuguese wing magician is deserving of a spot in history's hall of fame.
He has an incredible goal scoring record since switching from Manchester United to Real Madrid, and at the age of just 28, he scored his 400th career goal in January 2014. Due to his recent success, Ronaldo is now often regarded as the best soccer player in the world, along with Messi. Ronaldo possesses the full toolkit in terms of pace, strength, control, and finishing.
7- Michel Platini (1973-1987)
Platini was a notable player for Nancy, St. Etienne, and Juventus.
He won the European Championship with France in 1984 and the European Cup with Juventus the following year.
The attacking midfielder scored nine goals in that victory in 1984 and is regarded as one of the best passers in soccer history.
8- Alfredo Di Stéfano (1943-1966)
It's improbable that anyone will ever match Di Stéfano's feat of scoring in five straight European Cup finals. Di Stéfano's career was nothing if not international.
He was an Italian immigrant who was born in Argentina and played for three different foreign teams contributed significantly to Real Madrid's domination in the 1950s, but history might have been written very differently if he had joined Barcelona in 1943 as opposed to the Merengues.
9- Ferenc Puskás (1944-1966)
Puskas, one of the greatest strikers in history, scored roughly a goal per game for both his club and country.
He was a well-known player on the illustrious Mighty Magyars squad from Hungary in the 1950s. With Real Madrid, Puskas won the league scoring title four times and scored seven goals in two European Cup finals. Before joining Real in 1958 and earning another five league championships, he won five with Budapest Honvéd. Three European Cups are also on display in the inside-left.
Puskas, one of the greatest strikers in history, scored roughly a goal per game for both his club and country.
10- Eusébio (1958-1978)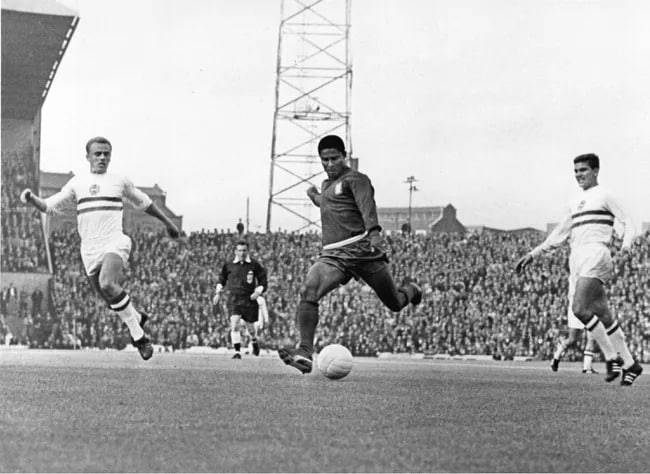 Eusébio, a nine-goal scorer at the 1966 World Cup finals, was a lightning-quick player with trickery in his arsenal.
The forward played for several different teams, but his best years with Benfica were when he averaged more over one goal per game. In 2010, Eusébio revealed to World Soccer magazine that he signed pictures of himself every night to give to kids the next day.