In a surprising turn of events, Wolverhampton FC secured a stunning 2-1 victory over Manchester City during a highly anticipated English Premier League clash. The match, which took place on a chilly Saturday evening, had fans on the edge of their seats, witnessing unexpected twists and standout performances from both sides.
A Rocky Start for the Favorites
From the opening whistle, it was clear that Manchester City was eager to assert its dominance. The visitors controlled the midfield and applied early pressure on Wolverhampton's defense. Manuel Akanji, Manchester City's versatile defender, tested the waters with a long-range shot just three minutes into the game. However, his effort sailed over the crossbar, and the home crowd breathed a sigh of relief.
Wolverhampton's Defensive Heroics
Wolverhampton's defense, led by the experienced Craig Dawson, was put to the test as Manchester City continued to probe for an opening. In the 6th minute, Dawson made a crucial clearance to deny Erling Haaland's goal-bound effort. The crowd erupted in applause, recognizing Dawson's invaluable contribution to keeping the game level.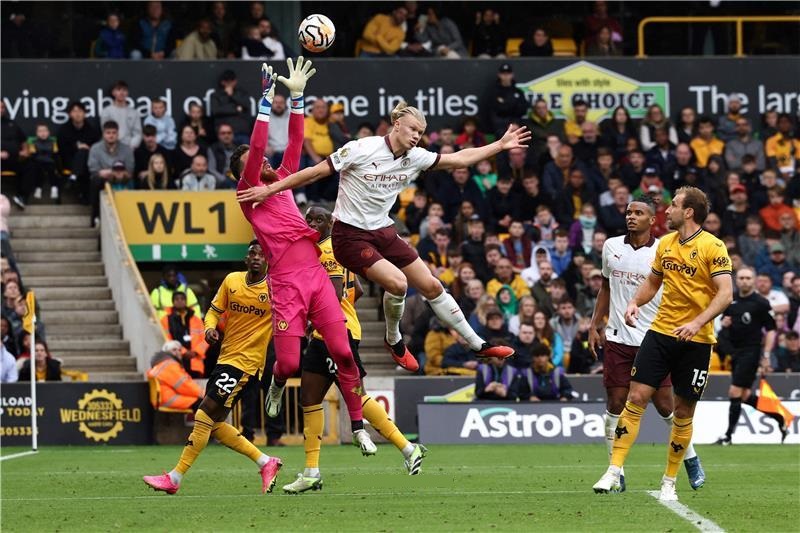 The Unexpected Opener
Despite Manchester City's early dominance, it was Wolverhampton who broke the deadlock in the 13th minute. Pedro Neto displayed incredible determination as he sprinted down the right flank, delivering a tantalizing cross into the penalty area. Unfortunately for Manchester City, defender Ruben Dias redirected the cross into his own net, leaving goalkeeper Ederson with no chance. The Molineux Stadium erupted in joy as the home team took an unexpected lead.
Manchester City's Fightback
The setback spurred Manchester City into action. They were determined to claw their way back into the match. Julian Alvarez, the Argentine playmaker, showcased his free-kick prowess in the 58th minute. His well-placed free-kick sailed above the defensive wall and curled into the top corner of the net, leaving Wolverhampton's goalkeeper rooted to the spot. The away fans celebrated wildly, sensing a potential comeback.
Wolverhampton's Resilience
Just when Manchester City thought they were back in the game, Wolverhampton had other plans. In the 66th minute, Huang He Chan capitalized on a defensive lapse by Manchester City, slotting the ball confidently past Ederson. The home crowd roared with delight as Wolverhampton regained the lead. From that moment, Wolverhampton's defense stood firm, denying Manchester City's attempts to equalize.
The Final Whistle
As the final whistle blew, Wolverhampton fans rejoiced in their team's remarkable victory. The win not only boosted their spirits but also marked a significant upset in the Premier League. Wolverhampton had managed to hand Manchester City their first defeat of the season, a feat that sent shockwaves throughout the footballing world.
In the end, it was a memorable evening for Wolverhampton and their loyal supporters. The underdogs had triumphed against one of the league's giants, proving that in football, anything is possible.