goals Czech Republic vs Spain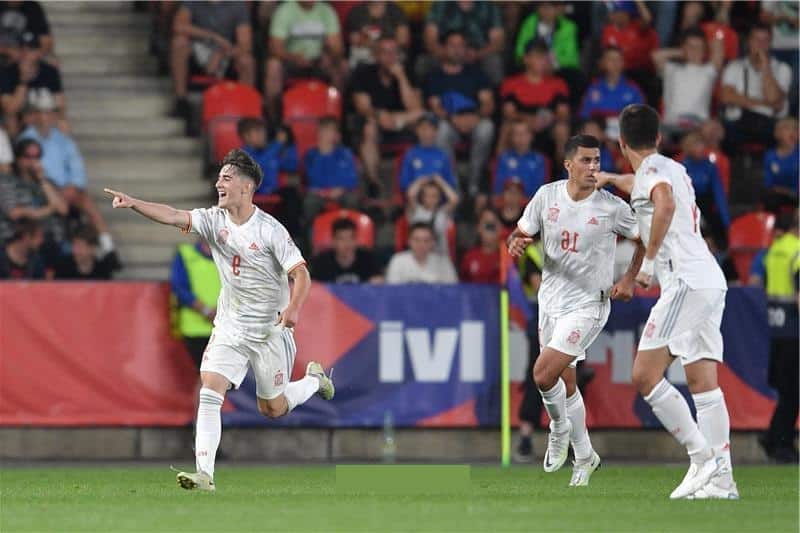 The positive tie was settled (2-2) against the Czech Republic and Spain, on Sunday evening, in the second round of the group stage of the European Nations League.
Pesek and Kucha scored for the Czechs in the 5th and 66th minutes, while Javi scored for Spain in the 45+3 minute and Inigo Martinez in the 90th minute.
With this tie, the Czech team raised its score to 4 points in second place, while Spain's balance rose to two points in third place.
Czech start
The match started with pressure from the Czech team, and Pesek scored the goal in the 4th minute, but the match referee canceled it for offside.
Pesek scored the first goal after one minute when he received a cross ball inside the area from his colleague Kocha, who turned it into the net.
Spain tried to create chances to threaten the Czech goal, and Sarabia missed the opportunity to score the goal, after receiving a ball from Raul de Thomas, but he shot awkwardly in the 27th minute.
And from the first shot against the Czech goal, the young Javi scored the equalizer for Spain in the minute (45 + 3), with a ground shot from inside the penalty area, below the left of goalkeeper Vaslik, to end the first half (1-1).
killer draw
At the beginning of the second half, Dani Olmo hit a powerful ball from outside the area, which passed over the Czech goal in the 49th minute.
Koca, the Czech national team player, hit a ball, which passed next to the right post of Spain goalkeeper Unai Simon, in the 54th minute.
Koke, the Spain national team player, sent a shot that rebounded to his colleague Ferran Torres inside the area, who tried to shoot with the heel but failed to score the second goal for Matador in the 58th minute.
Substitute Marco Asensio hit the post in the 62nd minute but failed to add the second goal.
Koca, the Czech national team player, succeeded in adding the second goal for his country in the 66th minute, receiving a deep ball and taking advantage of the Spanish defensive confusion, to be alone with the goalkeeper and put the ball into the net.
Marco Asensio sent a cross from the left side inside the area, which reached Ferran Torres, who headed a header, but it passed over the Czech goal in the 70th minute.
Inigo Martinez scored the equalizer for Spain in the 90th minute, to save the Matador from the loss, and scored a new point in his career.