Goals: Alaves – Sevilla -Played on 08/ 21/ 2023
Alaves Delivers a Hard Lesson to Sevilla with 4-3 Victory in La Liga Clash
Alaves Stuns Sevilla with Thrilling 4-3 Victory
In a high-octane encounter during the second phase of the Spanish Football League, Deportivo Alaves delivered an exhilarating lesson to Sevilla, emerging triumphant with a 4-3 scoreline. The match, held on Monday, showcased Alaves' determined performance and marked a stunning upset in La Liga.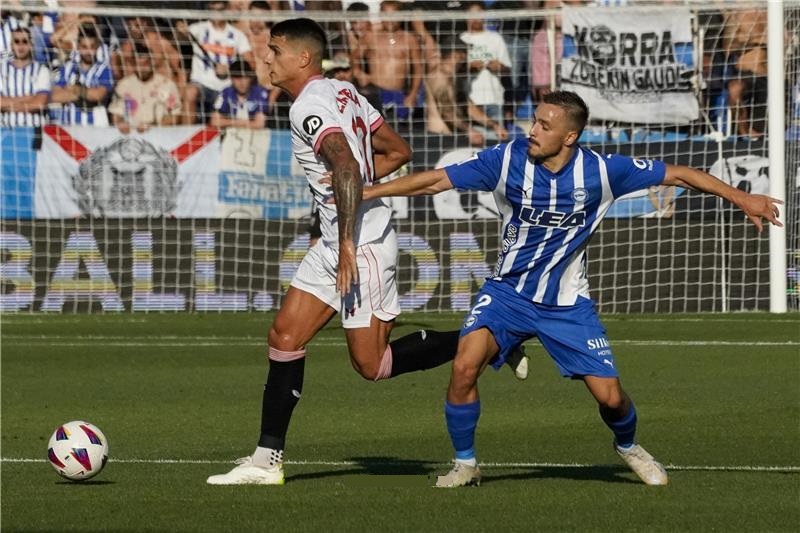 Early Drama and Twists
Deportivo Alaves wasted no time making its presence felt as Luis Rioja found the back of the net in the seventh minute, giving his team the early lead. However, Sevilla quickly retaliated, leveling the score 15 minutes in with an unexpected own goal by Abdul Kabir Abqaar.
Sevilla Takes the Lead, Alaves Strikes Back
Sevilla's Eric Lamela added to the drama with a goal in the 41st minute, putting his team in the lead. Yet, Alaves refused to be outdone, responding just three minutes later as Robin Duarte fired in the equalizer, keeping the balance precarious going into halftime.
Alaves Dominates the Second Half
The second half saw Alaves take command, with Enrique Garcia Kiki seizing the spotlight. He netted two crucial goals for the home team in quick succession, first in the 54th minute and then in the 59th minute. These well-executed strikes showcased Alaves' offensive prowess and strategic gameplay.
Late Drama Unfolds
Sevilla fought back valiantly, with Rafael Mir Vicente delivering a late goal in stoppage time. Despite this effort, Alaves' earlier dominance was enough to secure their victory.
Alaves Climbs the Ladder, Sevilla Struggles
With this remarkable win, Deportivo Alaves secured their first 3 points of the season, propelling them to the seventh spot in the La Liga standings. On the other hand, Sevilla's struggle continued as they remained without a point, languishing in the last position.
Final Verdict: A Thrilling Display
The match concluded with Deportivo Alaves emerging victorious in a nail-biting encounter. Their ability to bounce back from setbacks and dominate the second half showcased their determination and resilience.