Watch the goals of Atletico Madrid and Athletic Bilbao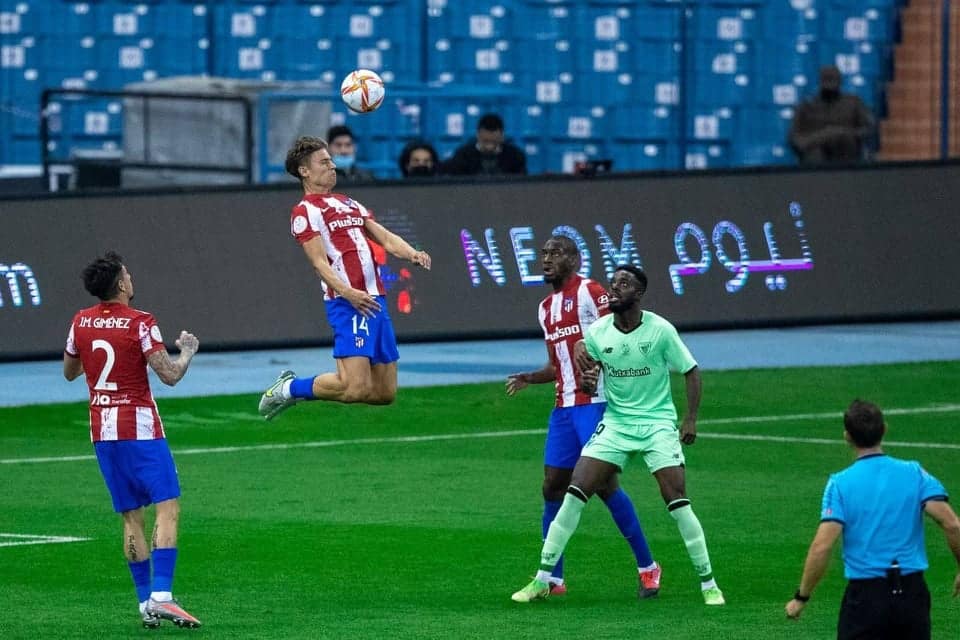 Athletic Bilbao beats Atletico Madrid to reach cup final
On Thursday, Athletic Bilbao reached the final of the Spanish Super Cup, with a 2-1 win over Atletico Madrid, in the match at King Fahd Stadium in Riyadh.
Bilbao set a date with Real Madrid in the Spanish Super Cup final, which will be held next Sunday.
Rukhi Blancos took the lead in the 62nd minute through goalkeeper Unai Simon by mistake in his own net.
But Bilbao turned the tables, scoring twice in the 77th and 81st minutes through Alvarez and Nico Williams.
First half events
The game began with an early goal for Atletico just 8 seconds after the first whistle, through Joao Felix. But the referee disallowed it for offside.
Bilbao's Munyayin tried to threaten Atletico's goal with a powerful shot. But it passed the top of the goal in the 6th minute.
Jan Oblak starred in a save from Inaki Williams' shot into the area, denying him a goal for the lead in the 10th minute.
Carrasco shot the Atletico player from outside the area, and Unai Simon saved twice in the 20th minute.
Bilbao's Danny Garcia received a pass deep from Sunset, aimed a powerful ball but passed the top of Oblak's goal in the 27th minute.
Atletico's Condogbia, a powerful shot from outside the area, was caught by Simon in the 39th minute, to end the first half with a goalless draw.
Second half events
At the start of the second half, Carrasco almost opened the scoring for Atletico in the 54th minute, receiving a ball in the box, dribbling with an individual effort. Before firing alongside the right post.
Joao Felix, opening the scoring for Atletico Madrid in the 62nd minute, from a corner that reached a cross inside the area for the Portuguese, who hit a header that hit the right post, touched goalkeeper Simon and then hit the net.
Oblak denied Inigo Martinez the equalizer in the 64th minute, hitting a header that saves brilliantly by Rokhi goalkeeper Blancos.
Lodi hit a ball on the edge of the penalty area. But it passed by the left post of Unai Simon's goal in the 68th minute.
Inaki Williams almost equalized Athletic Bilbao, with a shot inside the area. Which saves by Jan Oblak in the 74th minute.
Ray Alvarez scored the equalizer in the 77th minute, from a corner kick by Muniain that reached Alvarez. Who headed the header to the left of Oblak.
Nico Williams added the second goal for Bilbao in the 81st minute, with a missile shot inside the area, below the right of Oblak.
Atlético Madrid continued in the remaining minutes to equalize but to no avail.
And the referee famously, the yellow card in the face of the Atletico Madrid player Jimenez. Before he returned to the video technology and changed his decision to a direct expulsion, in the 94th minute, due to his violent intervention on Inigo Martinez.
More News
El Clasico. Real Madrid seal the match with a marathon win over Barcelona
Tunisia considered withdrawn to Mali in resounding arbitration scandal
Egypt kicks off Africa's nations with a frustrating loss to Nigeria/Watch the goals of the match CAF