Introduction
Atletico Madrid extended their winning streak with a convincing 2-0 victory over Osasuna on Thursday, concluding the seventh round of the Spanish league. This win marked their second consecutive victory after defeating city rivals Real Madrid 3-1 in the previous round. With this result, Atletico Madrid has am assed 13 points and climbed to the fifth position in the league table, noting that they have a postponed match against Sevilla.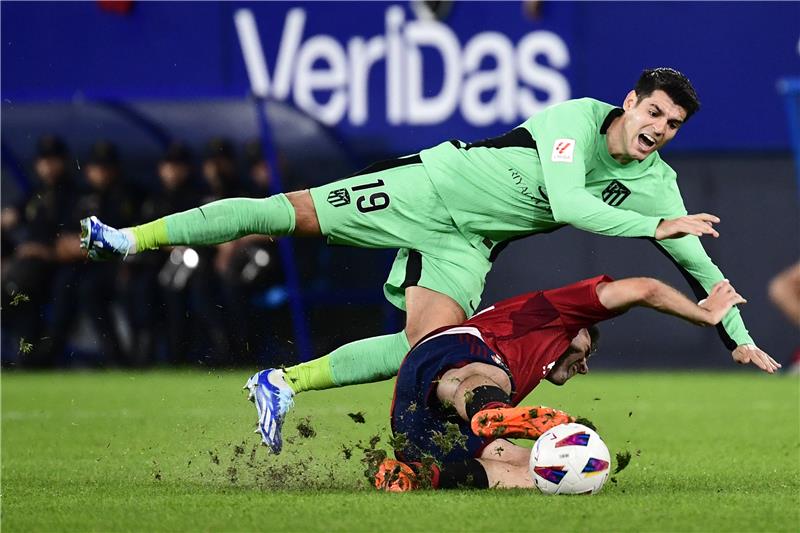 Atletico Madrid Takes the Lead
Atletico Madrid opened the scoring with a skillful strike by French forward Antoine Griezmann in the 20th minute. However, Osasuna thought they had equalized, but VAR intervened, disallowing a headed goal by Garcia Zubiria after a corner kick in the 75th minute.
Controversy ensued, leading to the dismissal of Osasuna's coach, Jacobo Arrasate, who vehemently protested the annulled goal.
Atletico Madrid's Decisive Blow
Atletico Madrid delivered a decisive blow to their opponents when substitute Rodrigo Riquelme outwitted Osasuna's goalkeeper Aitor Fernandez and slotted the ball into the empty net in the 81st minute.
The closing minutes of the match witnessed heightened tensions, resulting in red cards for Alvaro Morata (Atletico) and Argentine Luis Ezequiel Avila (Osasuna) in the 86th minute.
Atletico's Dominance Over Osasuna
This victory further solidified Atletico Madrid's dominance over Osasuna, as they secured their 11th consecutive win against the Basque team. Osasuna has not achieved a victory over Diego Simeone's Argentine-led squad for over eight years.
Osasuna's last victory against Atletico dates back to February 2014 when they defeated them 3-0 at the El Sadar Stadium, the same venue that hosted tonight's match, in a league competition.