The UAE national team lost 1-2 to its Australian opponent, today, Tuesday, at Ahmed Bin Ali Stadium in Doha, as part of the Asian play-off for World Cup qualifiers.
Australia qualified for the World Cup play-off match, next Monday, against Peru, which is fifth in the South American qualifiers, at the same stadium as today's match.
Defensive caution overshadowed the performance of the two teams, with each attempting to organize counter-attacks.
The similarity of the performance of the two teams allowed each of them to exchange control over periods of the first half.
But the real danger of the goal was better for the UAE team, in light of the organized performance and the stability of the parties, and the approach of its lines.
Hareb Suhail missed a dangerous opportunity for the Emirates in the 19th minute when he started from the right side and preferred the option to pay over sending a cross.
Hareb's shot rebounded from the body of Australian goalkeeper Ryan, and his defense completed the timely end of the dangerousness of that ball.
In a scenario similar to the first opportunity, Hareb penetrated from the right side, directly confronted the Australian goalkeeper, and hit a powerful ball that bounced off the goalkeeper in the 35th minute.
The Australian goalkeeper managed for the third time to block Hareb Suhail's shot in the 48th minute, in a third dangerous attack by the Emirates.
The Australian national team responded by scoring in the 53rd minute, with the foot of Jackson Irvine.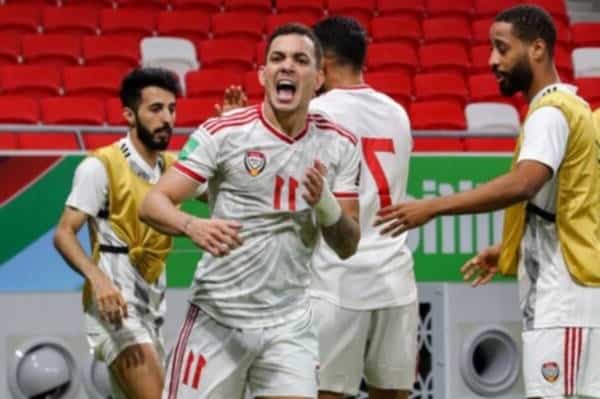 The Emirates equalized in the 56th minute, with a goal scored by Caio Canedo, after a cross by Hareb Suhail.
Godwin missed the opportunity for Australia's second goal in the 62nd minute, with an easy ball and a link in front of the goal, but he threw it in the sky.
Aidan Hirostich scored Australia's second goal in the 85th minute, with a powerful shot that hit the body of Ali Salmin, the UAE player, and changed its direction and into the net, ending the match with the loss of the Emirates.