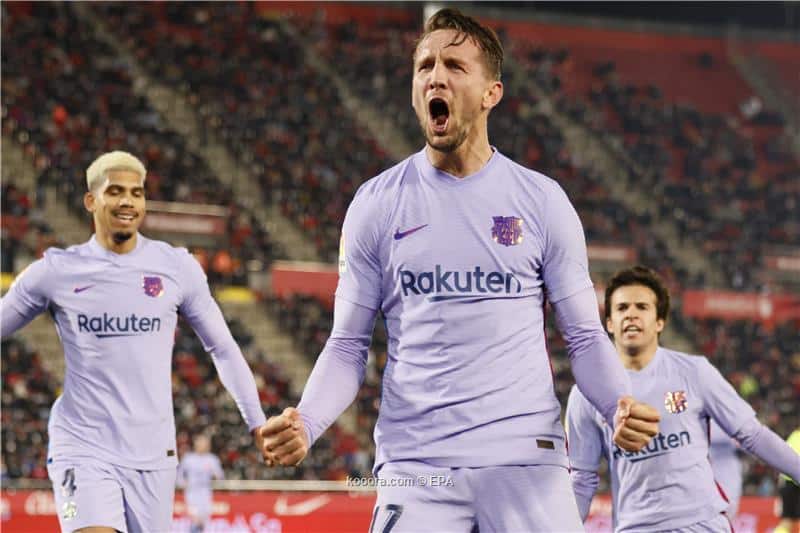 Barcelona beat Mallorca
In the round 19 La Liga competition, Barcelona clinched a hard-fought victory over host Mallorca with an unanswered goal.
Luke de Jong's only encounter goal scores in the 44th minute.
The Catalans took their tally to 31 points, jumping to fifth in the La Liga table. While Mallorca stayed 15th on 20 points.
Match Events
Barca went through the encounter with less than half his strength due to numerous absences due to various injuries. As well as the suspension of Sergio Busquets for accumulating injuries.
However, Xavi Hernandez was relatively well past the absentee crisis, and his side was the most dangerous on target since the opening minutes with attempts by Pique, Pugh, Akhumash, and Gottagla.
While luck struggled Dutch striker Luke de Jong, with the post and crossbar denying him two goals.
But fate smiled at De Jong, scoring a header taking advantage of Oscar Mengeza's elaborate cross.
In contrast, Marc-Andre Ter Stegen's goal throughout the first half was threatened only by was a poor shot, easily caught by the German goalkeeper.
Barcelona's players put in a double effort, which greatly impacted their fitness in the second half. As the Catalan guest slipped too much back to secure the win.
Mallorca has been actively seeking to equalize. However, right-back Mafio's launches and "Lee Kang-in" feuds or the footprint of substitutes De Galaretta, Niño, and Mbula.
Xavi kept the same starting lineup for 70 minutes until he had to replace Nico Gonzalez for complaining of muscle pain, sharing his place with Alvaro Sanz, completing the center trio with Frenkie de Jong, and Pugh.
Five minutes later, Mingisa left the pitch to complain of a muscle strain, sharing his place to get him through, to occupy the left-back position while Araujo moved right, with Pique and Eric Garcia deep in defense.
Majorca pressed hard, and their substitute striker "Mbula" missed the closest chances with a header over the bar a few minutes before normal time was up.
The referee counted four stoppage-time minutes, during which Ter Stegen managed to save his own goal from an investigator with a miraculous save on Jomi Costa's chance, to snatch Barca a precious victory amid the absence of a slew of his players, approaching the senior circle in the table.
More News
Corona hits Real Madrid and Dimbly's stance on Barcelona
Paris Saint-Germain differentiates Mbappe from Messi. Top Globe Soccer Award winners
Icardi saves paris Saint-Germain from Lorient trap