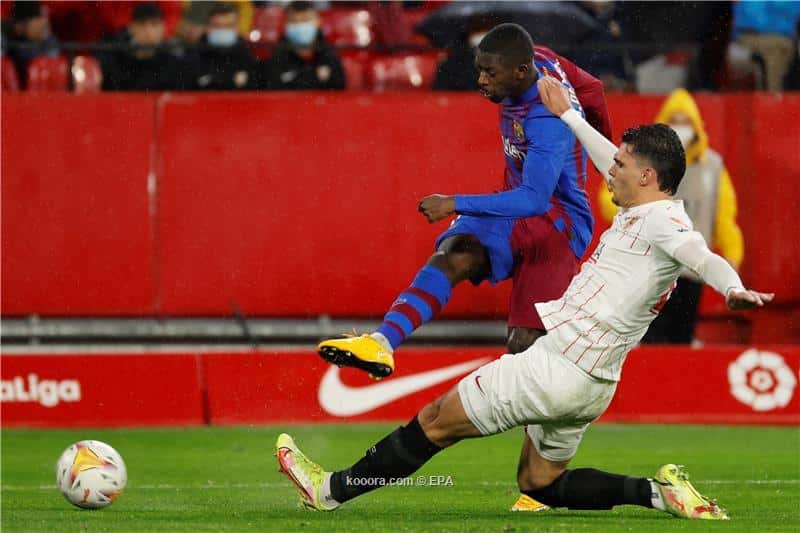 Barcelona draw with Sevilla
The positive draw (1-1) settled Sevilla vs Barcelona on Tuesday night in the postponed match of the fourth round, of the La Liga competition, held in the Andalusian stronghold of "Ramón Sanchez Pizjuan."
Papou Gomes scored for Sevilla in the 32nd minute. And Ronald Araujo scored for Barcelona in the 45th minute.
With that draw, Sevilla took their tally to 38 points, continuing in the La Liga runners-up.
Barcelona increased their tally to 28 points in seventh place.
Match events
The game began under pressure from Barcelona, with young striker Ferran Gottagla receiving a cross inside the area hitting a header it passing the top of Sevilla goalkeeper Yassin Bono's goal in the 8th minute.
Barcelona left-back Jordi Alba sent a cross into the area, reaching teammate Frenkie de Jong. Who headed into the hands of Morocco's Bono in the 15th minute.
Barcelona's Eric Garcia missed the chance to score the lead for Bluegrana in the 18th minute, conceding a ball inside the area, he firing too frivolously into Bono's hands.
Rafa Mir attempted Sevilla's second goal in the 36th minute, striking twice and Ter Stegen deftly saved the ball.
Barcelona defender Araujo managed to score the equalizer for Bluegrana, in the 45th minute, with Ousmane Dimbly's corner reaching Araujo. The latter headed a powerful ball in the far right of Sevilla goalkeeper Yacine Bono. To end the first half with a positive equalizer with a goal to the same.
Javi almost grabbed Barcelona's winner in the 81st minute, conceding a left-end cross from Abdel Samad Zalzouli, hitting a header that went past goalkeeper Yassin Bono's right post.
Osman Dembley's right-hand post was denied Barcelona's second goal in the 84th minute, after a shot from outside the area.
An altercation ensued between Conde and Barcelona left-back Jordi Alba, on the goal line. For the Frenchman to knock Alba with the ball. And the referee of the match marks a straight red card against the Sevilla defender, in the 64th minute.
Barcelona's attempts to snatch the winning goal continued. With Ousmane Dembele sending a cross from the right side, into the area reaching Luke de Jong. Who headed a header into the hands of goalkeeper Yassin Bono.
More News
Paris Saint-Germain easily overtakes Ulnoy in French Cup
The eighth final of the Champions: Real collides with Paris. And Ronaldo returns to Madrid