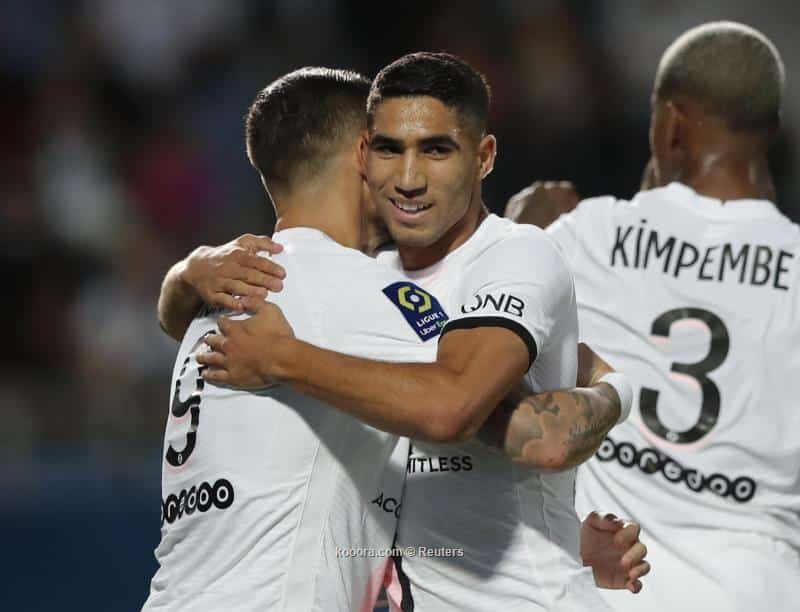 Paris Saint-Germain draw with Lorient
On Wednesday, Paris Saint-Germain escaped the trap of losing to host Lorient, drawing at a deadly time with a 1-1 result, in the 19 round competition of Ligue 1.
Thomas Monkondwe led with a goal for Lorient in the 39th minute. And Mauro Icardi leveled for the visitors in the 91st minute.
Saint-Germain took their tally to 46 points in the lead, while Lorient stayed 19th and penultimate on 16 points
Match events
The two teams exchanged danger formation on goal. PSG almost leading with an early goal less than two minutes later, from a Nuno Mendes cross, which Icardi met with his foot next to the post.
In contrast, Keylor Navas saved two chances in less than a minute, blocking a total solitude from Moffey. While brilliantly clearing a powerful shot for Armand Llorente in the right scissors.
Icardi and Di Maria's duo did not take advantage of Ashraf Hakimi's elaborate cross. While the left-hand post cleared a superb shot for Messi. And teenager Tango Ouattara responded with a shot next to the post.
And from a quick counter-attack for the hosts. It ended with Thomas Monkondwe's rocket shot into the net scoring the first goal in perfect timing.
As the second half began, Sergio Ramos came in for Nuno Mendes, and Kimpembe moved on to fill the left-back position.
PSG pressed hard to equalize, but Messi and Di Maria missed three dangerous tries in front of Lorient's goal,. While Keylor Navas continued his brilliance by saving Armand Llorente's shot.
A quarter of an hour before the meeting ended. Paris coach Mauricio Pochettino pushed young player Seko Yansani in place of Ander Herrera.
In the final minutes, goalkeeper Paul Nardi wore a mastery gown, saving his own goal twice from attempts by Argentine star Lionel Messi. After which Idrissa Jaye knocked a ball over the bar.
Sergio Ramos got two ultimatums in five minutes, to be sent off, and PSG completes the meeting with 10 players at a critical time.
Excitement peaked in stoppage time, with Icardi scoring the equalizer after a cross from Ashraf Hakimi. Who almost added a second, were it not for the vigilance of the Lorient goalkeeper, for the Parisian giants to survive falling into the trap of their hosts.
More News
Barcelona draw with Sevilla and send gift to Real Madrid
Paris Saint-Germain easily overtakes Ulnoy in French Cup