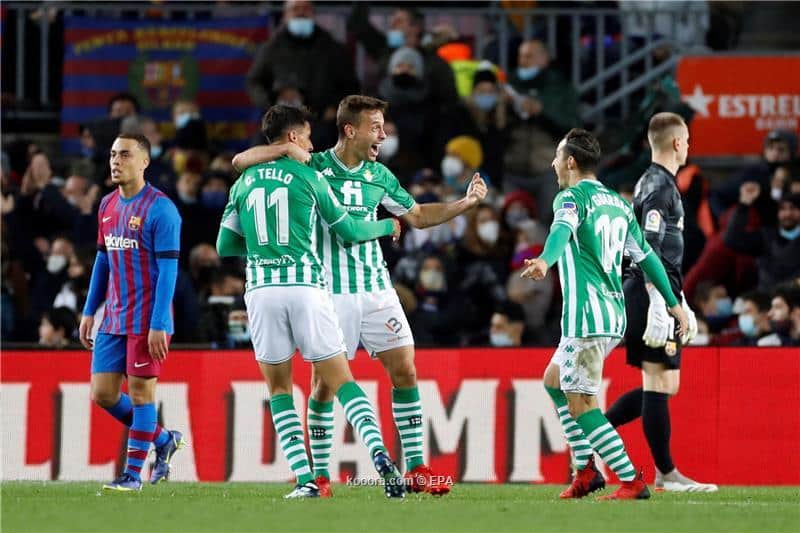 Real Betis beat Barcelona. Barcelona's first defeat under Xavi.
Real Betis secured a precious victory over Barcelona, with an unanswered goal, on Saturday evening, in the Blaugrana "Camp Nou" stronghold, under the 16th round of La Liga "La Liga."
The game's only goal was scored by Real Betis star Juan Miguel Jimenez-Lopez in the 79th minute of the meeting.
Real Betis took their tally to 30 points to finish third in the table. While Barcelona stuck at 23 points in seventh.
Match events
The game began with pressure from Barcelona, with Philippe Coutinho sending a powerful shot past Real Betis in the minute (7).
Coutinho almost opened the scoring in the 11th minute, conceding a cross from Alba and striking the birdie. But Roy Silva deftly blocked the ball.
Jaffe fell unconscious on the pitch after receiving a blow to the head, following a collision with Real Betis' Bellerin in the 32nd minute.
Barcelona manager Xavi Hernandez decided to withdraw Jaffe and involved Ricky Puig in his place in the 36th minute of the meeting.
Aitor Roybal took advantage of the gap between Alba and Araujo before the latter stepped in, dispersed the ball, and turned it into a corner in the 37th minute.
Roybal missed the chance to snatch a 45-minute lead, conceding a cross from Moreno but shooting alongside the post, to end the first half (0-0).
As the second half began, Juanmi scored the lead for Real Betis in the 52nd minute, but the referee ruled it out for offside after resorting to video technology.
Osman Dembley was involved as a substitute to reinvigorate the attack, and in his first attempt he tried to shoot but the ball hit the defense and turned the corner in the 60th minute.
Juanmi netted Real Betis' goal in the 79th minute, receiving a pass from Tilo to single-handed goalkeeper Ter Stegen and lodging the ball into the Catalan net.
Barcelona's players tried to score the equalizer in the remaining minutes. But to no avail, for the team to swallow the first defeat under Xavi Hernandez.
More News
Because of Messi and Mbappe.Pochettino to a journalist: Come sit in my place!
Urgent. Messi reaps seventh Ballon d'Or
Rivals setbacks set Messi's way to seventh Ballon d'Or