Introduction
Bayern Munich faced little resistance as they cruised past their hosts, Borussia Munster, on Tuesday, securing a resounding 4-0 victory in the first round of the German Cup.
---
Match Highlights
Bayern Munich didn't face much difficulty in overcoming the challenge posed by their hosts, Borussia Munster, on Tuesday. They secured a convincing 4-0 victory in the first round of the German Cup.
The goals for the Bavarian team were scored by Choupo-Moting, Laimer, Kretzschmar, and Teel in the 9th, 40th, 45+5th, and 86th minutes, respectively.
Early in the match, Bayern Munich had an opportunity when Goretzka delivered a precise pass into the penalty area. Gnabry met the pass with a direct touch while Munster's goalkeeper, Johann Schink, was leaving his goal. Unfortunately, the ball missed the target and went just wide.
Matthias Teel sent a precise cross from the left side into Munster's penalty area, finding Choupo-Moting, who skillfully directed it into the net, opening the scoring in less than 10 minutes.
Following the goal, coach Tuchel was forced to replace Gnabry, who seemed affected after colliding with the goalkeeper early in the game. Youngster Franz Kretzschmar came on as his replacement.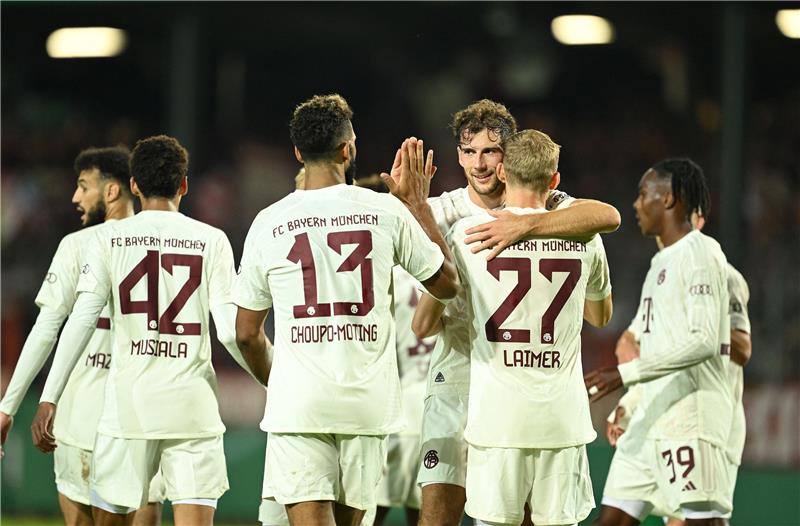 The substitute almost made an instant impact as he rose to reach a well-placed cross from the right side, but his header missed the target.
Munster's goalkeeper made a splendid save to deny Musiala from a clear scoring opportunity, and Goretzka also had a chance denied by a fantastic save.
Goretzka delivered a precise long pass to Laimer inside Munster's penalty area, and the latter executed a fantastic header that found the back of the net.
Just before the end of the first half, Bayern added a third goal through Kretzschmar, who connected with a Kimmich cross and sent a shot into the net.
After the break, Bayern continued to dominate, seeking to add a fourth goal in various ways. Musiala had the most dangerous opportunity early on when he took a shot that narrowly missed the post.
Munster began pushing toward Bayern's penalty area in hopes of scoring a goal. They had a chance from a corner kick, but Kulis headed it over the goal.
Koman came close to making his mark on the game with a powerful shot, but it deflected off a defender and turned into a corner.
As time passed, Munster came closer to finding the back of Bayern's net. Kulis nearly connected with a ball in front of him after a teammate's header, but he dived towards it without being able to reach it.
---
Conclusion
The match ended with Bayern Munich securing a comprehensive 4-0 victory over Munster. As the game progressed, Munster came close to breaking Bayern's defense, but they were unable to find the net.
This win propelled Bayern Munich further in the German Cup, showcasing their dominance in the competition.