Catch the Stunning Goals: 🎥⚽ Bayern's Magnificent 7-0 Triumph!
September 23, 2023 – Football – Rami Abu Al-Waleed
Bayern Munich Players Shine
In a stunning display of dominance, Bayern Munich defeated Bochum with a resounding score of 7-0 at the Allianz Arena. The match, which took place on Saturday as part of the fifth round of the German league, saw Bochum failing to register a single shot on target against Bayern's goalkeeper, Zven Ulreich.
The seven goals for Bayern were scored by Choupo-Moting, Harry Kane (hat-trick), Matthias de Ligt, Leroy Sane, and Matheus Cunha in minutes 4, 12, 29, 38, 46, 54, 81, and 88.
This victory catapulted Bayern Munich to the top of the league table with 13 points, while Bochum remained at the fourteenth spot with only 3 points.
Early Dominance
The first few minutes of the game almost resulted in an early goal for the home team as Kingsley Coman delivered a cross to Choupo-Moting, who directed it towards the goal, but goalkeeper Manuel Riemann made a crucial save.
Bayern continued to attack, and Harry Kane extended the lead with a direct shot inside the penalty area after capitalizing on a loose ball from Bochum's defense.
Relentless Bayern Attacks
Bayern's offensive onslaught didn't stop there. They had a chance to add another goal with a powerful header from a corner, but the ball hit the crossbar.
Kane capitalized on a defensive mistake from Bochum, finding himself with the ball inside the penalty area and scoring another goal with a precise shot.
Kimmich's Corner, De Ligt's Header
Joshua Kimmich delivered a perfect corner kick, and Matthias de Ligt rose to meet it with a powerful header, securing Bayern's third goal.
Bochum's goalkeeper, Riemann, managed to deny Choupo-Moting's goal-scoring opportunity, but he couldn't stop Sane's shot from inside the penalty area, resulting in the fourth goal for Bayern.
Kane's Missed Opportunity
Kane had a one-on-one chance against Riemann, but the goalkeeper made an impressive save.
Just before the end of the first half, Coman came close to adding a fifth goal for Bayern, but Riemann's skillful save kept the score at 4-0 as they headed into halftime.
Controversial Substitution
In a surprising move, Bayern's coach, Thomas Tuchel, replaced De Ligt with Kim Min-Jae at halftime, which raised eyebrows as it was Kim's first start in the Bundesliga this season.
Kane's Hat-Trick
Shortly after, Choupo-Moting won a penalty after a handball in the box, and Kane stepped up to score his second goal of the match and Bayern's fifth.
Sane attempted a long-range shot, but Riemann easily caught the ball. Tuchel then decided to give some playing time to young substitutes Matheus Tiel and Frank Kratzig.
Late Goals
Kratzig almost made an immediate impact with a powerful shot from inside the penalty area, but the Bochum goalkeeper displayed great skill to deny him. Mzraoui then rose to meet a corner kick with a header that hit the crossbar.
Despite the slower pace of the game, Bayern didn't stop pouring in goals. Kane passed the ball to Tiel inside the penalty area, who scored from the tightest of angles, making it 6-0.
With just two minutes remaining in regular time, Mzraoui delivered a ground cross to Kane, who deftly touched the ball into the net, securing his hat-trick and Bayern's seventh goal of the match.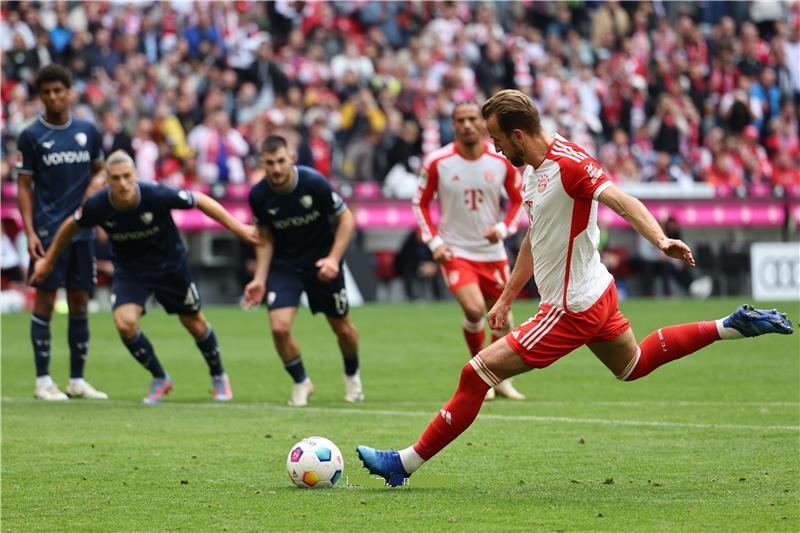 Conclusion
In a stunning display of dominance, Bayern Munich's players showcased their skill and strength, defeating Bochum 7-0 and claiming the top spot in the league. Harry Kane's hat-trick was a standout performance, and the team's relentless attacks overwhelmed their opponents. Thomas Tuchel's substitutions added depth to the squad, ensuring a decisive victory that solidified Bayern's position at the summit of the Bundesliga.