Goals: Bayern Munich – VfL Bochum – Played on 02/11/ 2023
Bayern Munich achieved an easy victory over its guest Bochum (3-0), today, Saturday, in the 20th round of the German League.
Bayern's goals came through Thomas Muller, Kingsley Coman, and Serge Gnabry in the minutes (41, 64, and 73).
With this result, Bayern maintained the top of the standings table by reaching the 43rd point, while Bochum's balance froze at 19 points in the 15th place.
The match was the final rehearsal for the upcoming clash between Bayern and Paris Saint-Germain in the first leg of the Champions League final, next Tuesday.
Bavarian pressure
The first dangerous opportunity came a quarter of an hour after the start of the match, from a cross sent by Cancelo towards Chubu Moting, who met it with a header into the net from the outside.
Mueller received a longitudinal pass near the penalty area, to try to put a ball over Bochum goalkeeper Manuel Reimann, but his attempt failed.
Bayern was close to hitting its guest net twice in a row, but goalkeeper Riemann blocked his own goal by depriving Choupo Motnig of the ball reaching him, before blocking Gnabry's creeping shot.
Saidi Yanko made a fatal mistake by accidentally passing the ball to Mueller, who reached it before goalkeeper Riemann, so the ball hit the latter before the Bayern star put it in the empty goal, scoring the goal for the home side.
The guests' goalkeeper blocked a header from De Ligt, which bounced back to Goritska, who also headed it, to pass strangely next to the post, and the first half ended (1-0) in favor of Bayern Munich.
the target for the substitute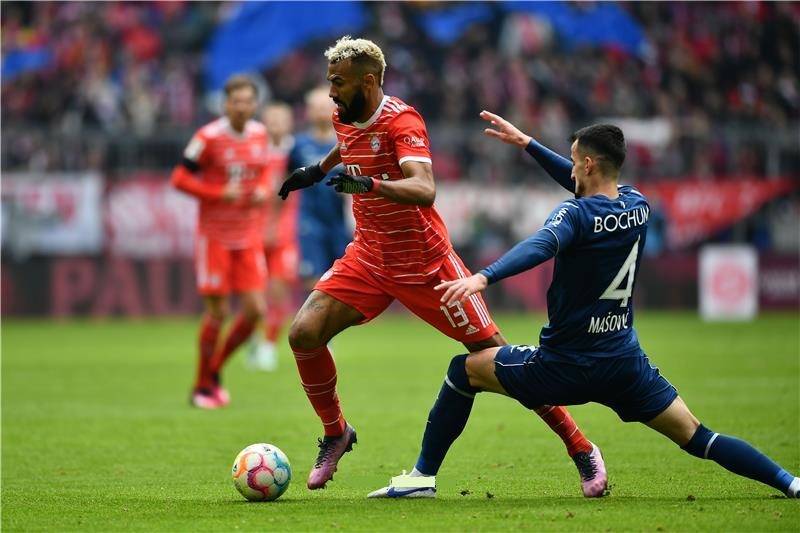 The beginning of the second half witnessed a dangerous opportunity for Bochum from a powerful header by Philip Hoffmann, which was brilliantly saved by Sumer.
Sani fired a long-range shot from outside the penalty area, but the ball went easy in the hands of Reiman.
4 minutes after he came on as a substitute, Koeman succeeded in boosting the Bavarian team's lead with a creeping shot, which passed between the feet of the Bochum goalkeeper into the net.
And with the 73rd minute, Gnabry gets a penalty kick after being hampered by Yanko, to successfully implement it himself, scoring his team's third goal in the match.
And Daley Blind tried his luck minutes after coming on as a substitute, firing a long-range shot, which settled in the hands of the Bochum goalkeeper.
Reiman saved his goal again by blocking a dangerous shot from Aaron Ibrahimovic before Koeman hit a powerful ball from outside the penalty area, but it passed over the post.