Goals:West Ham_United – Chelsea FC – Played on 02/11/ 2023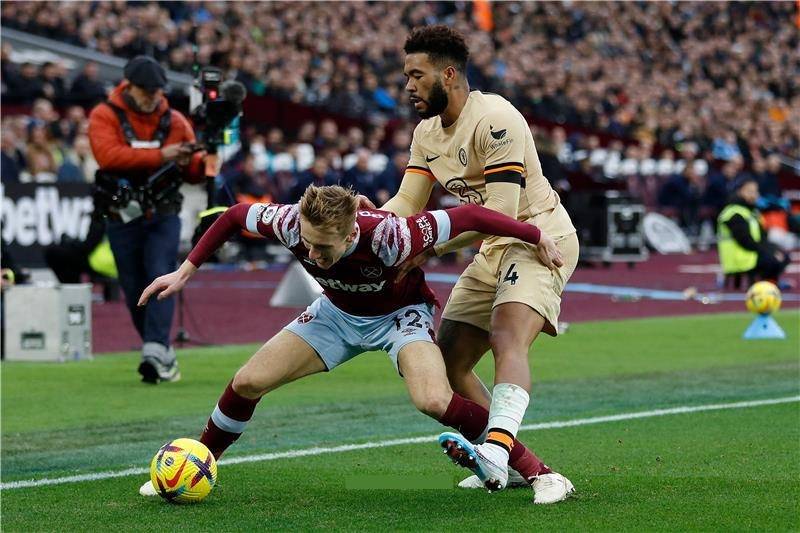 The Blues opened the scoring through Joao Felix in the 16th minute, and Emerson equalized
for West Ham in the 28th minute.
West Ham increased its total to 20 points in 15th place, while Chelsea increased its total to 31 points in
ninth place.
In the second minute, Chelsea created their first threat with a violation from the edge of the box, which
James carried out a direct shot, which Fabianski saved.
In the 13th minute, Chelsea made a comeback with a shot from outside the box by Enzo Fernandez that
went just wide of the goal.
Enzo crossed the ball into the box for Felix, who headed the ball into the goal to give Chelsea the lead in
the 16th minute.
West Ham appeared offensively for the first time in the 25th minute, after Bowen penetrated
the right side, and sent a cross, which Antonio followed with a direct shot, which was blocked
by Kepa.
Immediately after that, Keirer rose to cross from a corner kick, hitting a weak header, which
passed next to the post.
And West Ham succeeded in scoring the equalizer in the 28th minute after Koval sent a cross
into the area, which passed in front of the feet of Chelsea defenders, to reach Emerson, who
was free of control, and easily fired into the net.
Madueki tried to give Chelsea the lead again in the 34th minute, with a shot from inside the
but Fabianski excelled in halting it.
Chelsea almost scored the second goal in the 40th minute, from a violation on the border of
the area, which was carried out by Felix, hitting a powerful ball that Fabianski turned for a
corner.
From that corner, Badiachel rose and hit a header that went over the crossbar, to end the first
half with a 1-1 draw.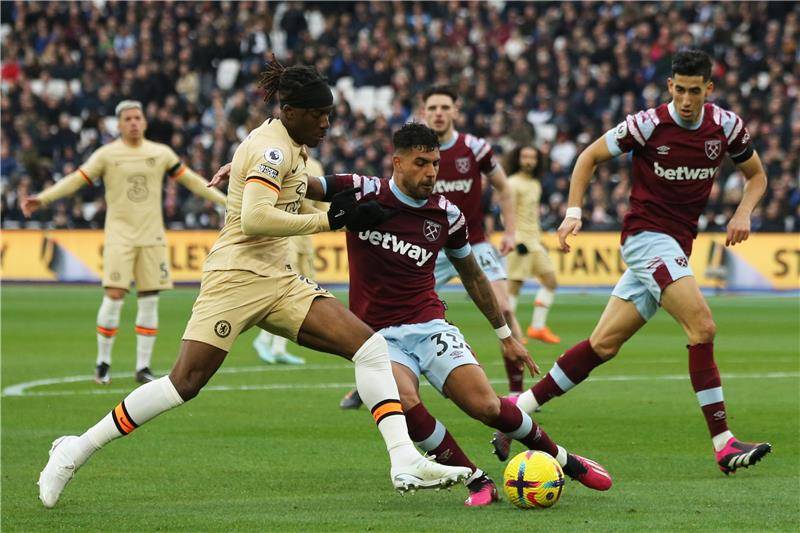 At the start of the second half, Rice hit a powerful ground ball from the edge of the area in the
54th minute, which passed next to the post.
Antonio almost stunned his team in the 57th minute with a reverse goal, by trying to clear a
cross from a violation committed by James, with a header.
In the 68th minute, Bowen sent a cross from the right side, followed by Sochik with a header
that passed next to the post.
When Havertz followed Chilwell's shot in the 75th minute, Chelsea had a great opportunity to score
cross, but he aimed right at the goalpost.
Chelsea's offensive recovery continued, with a shot from Fernandez from outside the area in
the 78th minute, which went wide of the goal.
The second goal from West Ham, via Sochik, upset Chelsea in the 82nd minute.
Before the game concluded in a 1-1 draw, the var intervened with the decision to rule the goal for offside.