Goals :Almeria – Real Madrid – Played on 08/19/ 2023
Introduction:


In a captivating encounter on Saturday evening, English midfielder Judd Bellingham led Real Madrid to a resounding 3-1 victory against Almeria in the second round of the Spanish League. Bellingham's standout performance turned the tables in favor of Real Madrid after an early setback.
Early Setback and Bellingham's Equalizer:

The match commenced with an unexpected twist as Almeria's Sergio Arribas found the net in the 3rd minute, capitalizing on a precise delivery from his teammate Robertoni. Despite scoring against his parent club, Arribas refrained from celebrating. Real Madrid's response came in the 19th minute, with Judd Bellingham displaying his prowess by netting the equalizing goal. Bellingham skillfully connected with a header from Valverde, placing the ball neatly into the bottom left corner, beyond the reach of goalkeeper Maximano.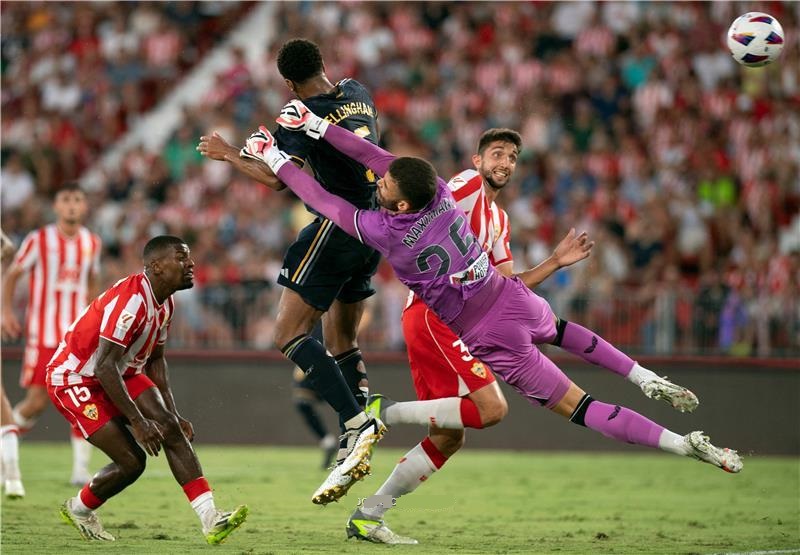 Controversy and Midfield Dominance:


The first half continued with intense action. Toni Kroos seemed to have given Real Madrid the lead in the 45th minute (45 + 5), but the referee annulled the goal due to a foul by Dani Carvajal. Despite the setback, Real Madrid displayed their midfield dominance, orchestrated by Bellingham, who was relentless in his pursuit of control over the game.
Bellingham's Double and Vinicius' Clincher:

As the second half unfolded, it was Bellingham who once again left his mark on the match. In the 60th minute, he elevated his game by heading in a cross from Cross, securing his second goal of the night and propelling Real Madrid ahead. Almeria attempted to fight back with a powerful strike from Luis Suarez, but Lunin's goal remained unbreached. The decisive blow came in the 73rd minute when Bellingham played a pivotal role in setting up Vinicius Junior, who expertly found the back of the net, sealing Real Madrid's victory.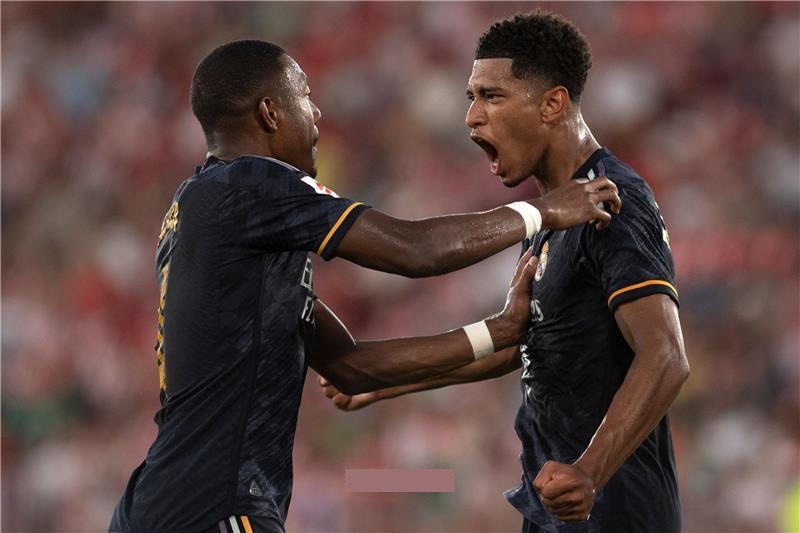 Full-Time Triumph and League Leadership:
As the final whistle blew, Real Madrid emerged victorious with an impressive 3-1 scoreline. This triumph propelled Real Madrid to the top of the La Liga standings with 6 points, setting a strong early-season precedent. On the other hand, Almeria found themselves languishing at the twentieth position without any points to their name.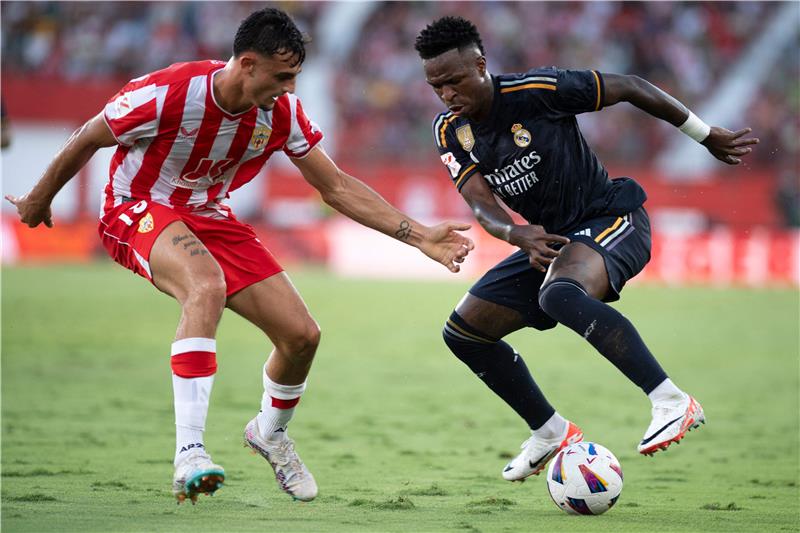 Conclusion:
Judd Bellingham's commanding presence on the field and his remarkable brace played an instrumental role in Real Madrid's comeback victory against Almeria. The Englishman's contributions not only secured the win but also positioned Real Madrid as the team to watch in the ongoing La Liga season.