Goals: Man City – Sevilla – Played on 08/16/ 2023
Manchester City Clinches European Super Cup Title with Penalty Shootout Victory
In an exhilarating showdown at Greece's Karaiskakis Stadium, Manchester City emerged triumphant in the European Super Cup, claiming the coveted title after a nerve-wracking penalty shootout that ended 5-4 in their favor against Seville. The encounter had originally concluded in a 1-1 draw, setting the stage for a dramatic penalty kick showdown.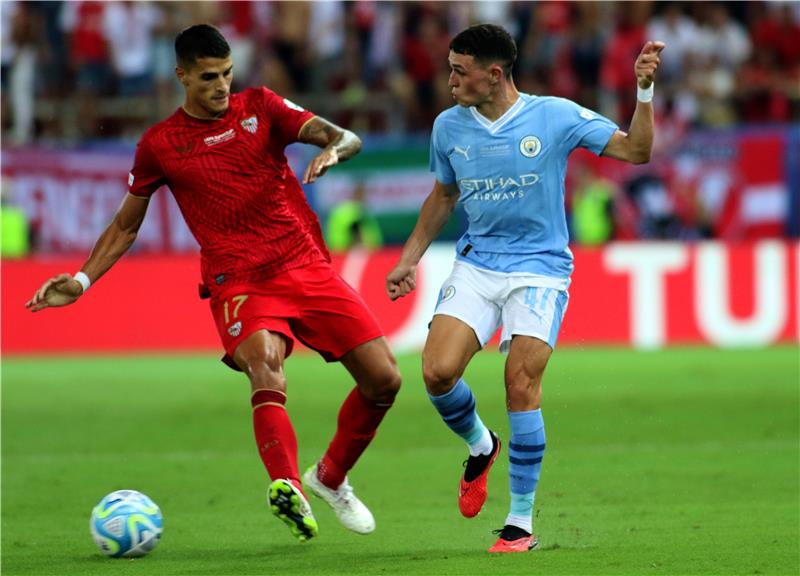 Intense Battle and Early Opportunities
Right from kick-off, Seville exerted pressure on the field, with Eric Lamela launching a powerful left strike narrowly missing the target, brushing past the right post guarded by goalkeeper Yassin Bono. Moroccan shot-stopper Yassine Bounou showcased his skills early on, thwarting a dangerous header from Nathan Ake inside the penalty area.
Seville Takes the Lead
Seville wasted no time in making their mark. Youssef Al-Nusairi found the back of the net in the 25th minute, capitalizing on a precise cross from Marcos Acuña. Rising above the defense, Al-Nusairi's well-placed shot left goalkeeper Ederson with little chance.
Manchester City's Persistence Pays Off
Undeterred by the deficit, Manchester City continued their offensive efforts. Jack Grealish's curved ball within the penalty area was masterfully dealt with by Bono, who turned it into a corner. The first half drew to a close with Seville leading 1-0.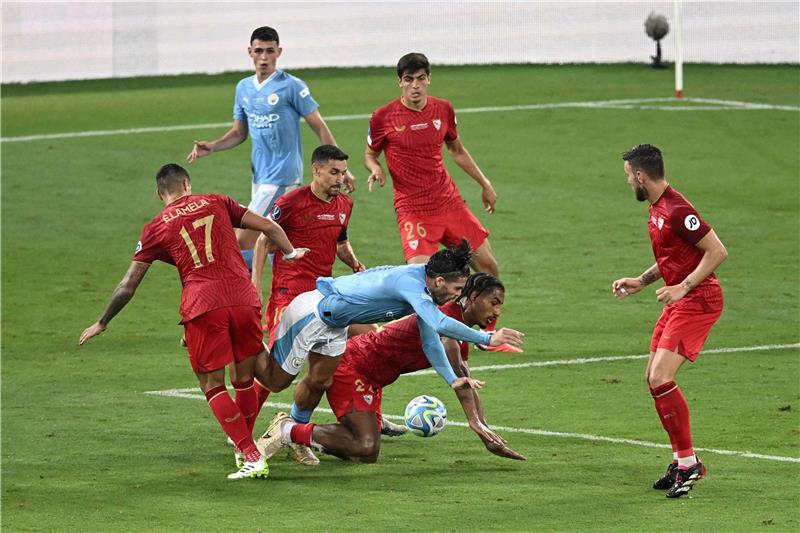 Equalizer and Near-Misses
The second half began with Seville's Youssef Al-Nusairi squandering an opportunity to extend their lead, shooting recklessly from within the penalty area. Manchester City's perseverance finally paid dividends in the 63rd minute when Cole Palmer's header, courtesy of a left-sided cross, found the far corner of Bono's net.
Goalkeeping Heroics and Penalty Shootout Drama
Ederson and Bono showcased their goalkeeping prowess, denying Al-Nusairi's attempts to reclaim the lead for Seville. As the clock ticked down, Nathan Ake came close to securing a last-gasp victory for Manchester City with a powerful header, brilliantly thwarted by Bono.
Penalty Shootout Decider
With the original time ending in a deadlock, the match proceeded to a penalty shootout. Fortune favored Manchester City as Sevilla's Gudel's decisive fifth kick struck the crossbar, sealing the European Super Cup victory for Manchester City for the very first time in their history.
This thrilling clash showcased Manchester City's determination, exemplified by their penalty shootout prowess, ultimately culminating in their crowning as the European Super Cup champions in a hard-fought and unforgettable encounter.