Goals: Benfica – Club Brugge – Played on 03/07/ 2023
Benfica of Portugal swept away its Belgian guest, Club Brugge, 5-1 in the second leg of the final price of the European Champions League, on Tuesday evening, to reach the quarter-finals for the second season in a row.
Benfica scored Rafa Silva's goals in the minute (38), Gonzalo Ramos (45 + 2 and 57), Joao Mario (71 from a penalty kick), and Brazilian substitute David Nerich (77).
The Dutchman Bjorn Meyer scored the only goal for Bruges in the 87th minute.
At the "Da Luch" stadium, Benfica renewed its victory over its opponent, after beating it 2-0 in the first leg in Belgium.
Benfica is presenting a distinguished season, led by German coach Roger Schmidt, as it leads the domestic league with one loss in 23 matches, and appears on the right track to be crowned champion of Portugal for the first time since 2019.
Benfica surprisingly topped its group against Paris Saint-Germain and Juventus after imposing two draws on the French champions and achieving two victories over the Italian team.
And an early goal for Benfica was canceled in the 2nd minute after the Danish Alexander Bah passed a cross to Joao Mario at the goal, followed by a wonderful back heel in the net, but the goal was ruled out for offside Ramos.
Benfica continued his pressure and Mario again almost gave the Eagles the lead with a shot from inside the area that midfielder Meyer pushed away in the final seconds before it crossed the goal line in the 26th minute.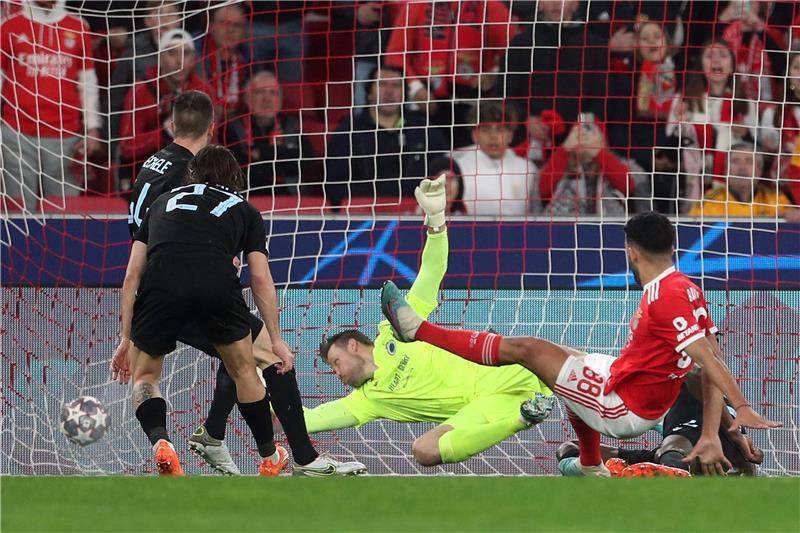 Silva opened the scoring when he received a cross from Ramos inside the area, tamed it in a beautiful way, and manipulated defenders before hitting it with the face of his right foot, wonderfully as he slipped, so he settled in the net in the minute (38).
Ramos doubled Benfica's lead as he dribbled past several defenders before hitting the net (45 + 2).
The 21-year-old made headlines when he started at the expense of Cristiano Ronaldo in the 2022 Qatar World Cup final and scored a hat-trick in the 6-1 victory over Switzerland.
The promising young man scored his second personal goal with a shot from inside the area after a cross from Spaniard Alejandro Grimaldo (57).
Benfica got a penalty kick after being blocked by Ivory Coast's Abakar Sila against Brazilian substitute Gilberto, which Mario executed, scoring his second goal against Brugge after hitting the net back (71).
In turn, Niresh visited Brugge again after the first match, with a left-footed shot from inside the area to the left of goalkeeper Simon Mignolet (77).
Meyer scored a wonderful honorary goal with a powerful shot from the left side of the area in the upper left corner (87) before the match went to its natural end with the victory of the Portuguese.