Goals: Manchester City – Arsenal Played on 04/26/ 2023
Manchester City defeats Arsenal 4-1 in the 33rd round of the English Premier League
In a highly anticipated match in the English Premier League, Manchester City defeated Arsenal 4-1 at home at the Etihad Stadium in the 33rd round. This result took Manchester City's score to 73 points, putting them in second place, while Arsenal remained at the top of the league with 75 points, with two more games to play.
Kevin De Bruyne shines
The first half began with Manchester City dominating the game and pressing Arsenal's defense. Kevin De Bruyne scored two goals, one in the 7th minute and the other in the 54th minute. De Bruyne's performance was outstanding throughout the match, as he managed to create many chances for his team and made several penetrating runs.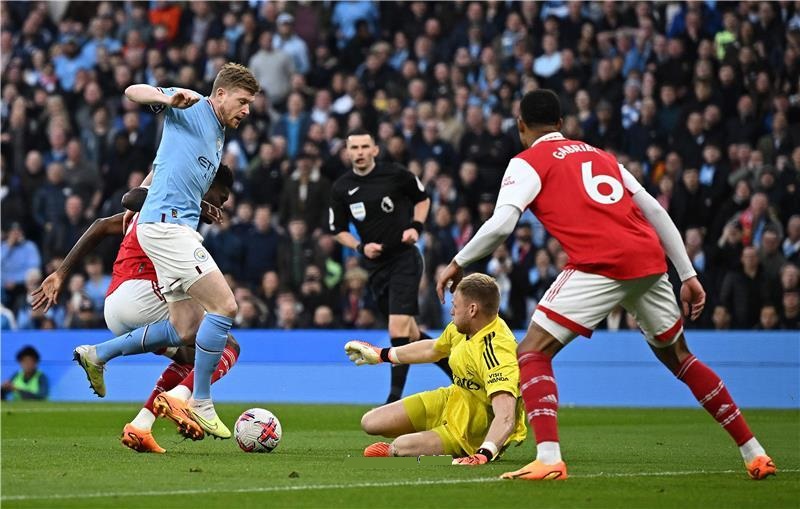 John Stones and Erling Haaland complete the score
John Stones scored the second goal of the match just before half time, after a free-kick taken by De Bruyne. Erling Haaland, who played an impressive game, scored the final goal in the fifth minute of injury time, to secure Manchester City's victory.
Arsenal's efforts fall short
Arsenal's only goal of the game was scored by Rob Holding in the 86th minute. Arsenal played a decent game, especially in the second half, as they tried to narrow the gap, but their efforts were not enough to secure a positive result.
Haaland's missed opportunities
Erling Haaland played an excellent game but missed several opportunities to score. He was alone in front of the goalkeeper on several occasions but could not find the back of the net.
Ramsdale's saves keep Arsenal in the game
Arsenal's goalkeeper, Aaron Ramsdale, made some excellent saves throughout the match, keeping his team in the game. He blocked several shots from Haaland and Gundogan and prevented Manchester City from scoring more goals.
City's dominance and offensive style
Manchester City's dominance was clear from the beginning of the game. They controlled the possession and created many chances, especially in the first half. They played with an offensive style, pressing Arsenal's defense and creating many opportunities to score.
Arsenal's defensive weaknesses
Arsenal's defense was the weak point of their performance, as they failed to prevent Manchester City from creating many chances. They struggled to deal with Manchester City's offensive style, and their efforts to stop De Bruyne and Haaland were not successful.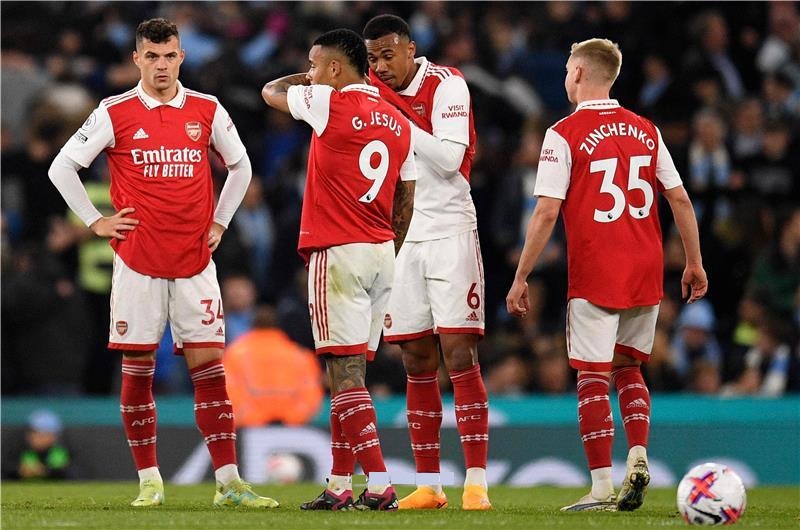 Conclusion
In conclusion, Manchester City's victory over Arsenal was well-deserved, as they dominated the game and created many chances to score. Kevin De Bruyne was the man of the match, as he scored two goals and made several penetrating runs. Arsenal played a decent game, but their defensive weaknesses were clear, and they failed to stop Manchester City's offensive style.