Barcelona Celebrates Victory in Farewell Night at Camp Nou
Introduction:
Barcelona bid farewell to Camp Nou with a resounding 3-0 victory over Real Mallorca in the 37th round of La Liga. The match marked the closure of the stadium for maintenance and development after the game. Ansu Fati, in particular, shined for Barcelona with two goals, securing a comfortable win. With this victory, Barcelona sits atop the La Liga table with 88 points, having already secured the title four rounds before the season's end. Real Mallorca, on the other hand, remains in twelfth place with 47 points.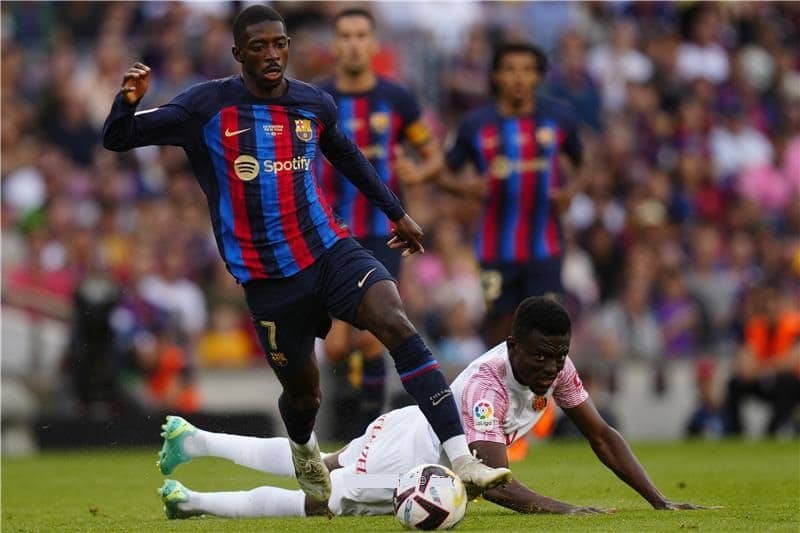 Ansu Fati's Quick Opener:

Barcelona started the match with early pressure, and it paid off when Ansu Fati scored only 49 seconds into the game. Fati received a cross from Javi inside the penalty area and found the back of the net, giving Barcelona an early lead.
Early Red Card and Substitution:

In the 14th minute, Mallorca's Amath Ndiaye was shown a red card for a violent challenge to Alejandro Balde. As a result, Barcelona's coach, Xavi Hernandez, substituted the injured Balde with Sergi Roberto.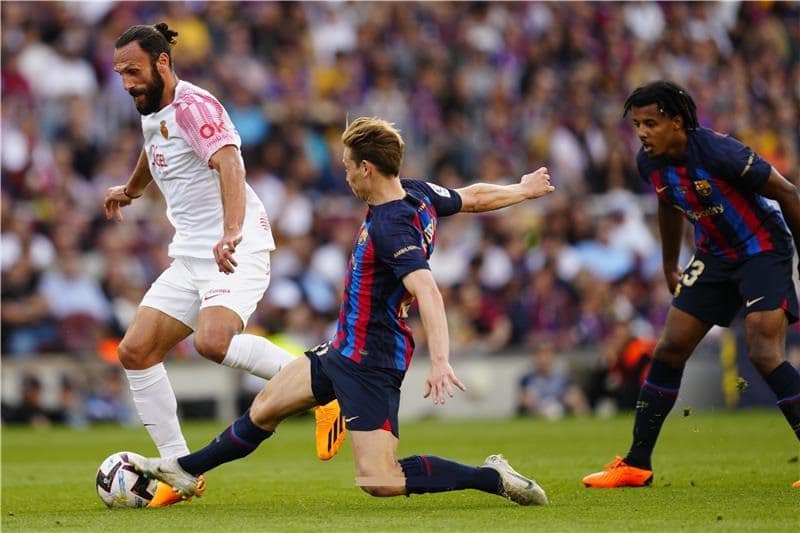 Ansu Fati's Second Goal:

Ansu Fati continued his impressive performance by adding Barcelona's second goal in the 24th minute. He received a brilliant pass from Lewandowski inside the penalty area and skillfully aimed it toward the bottom left corner of the goal.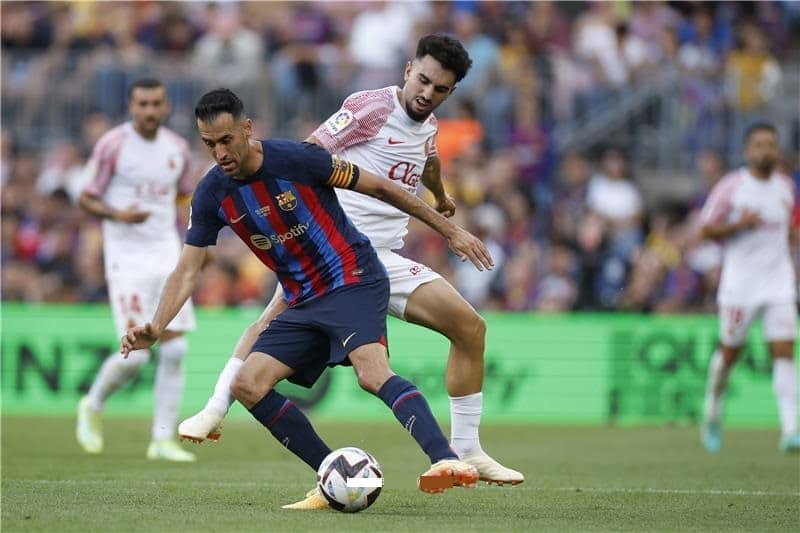 Second Half Opportunities:

In the early moments of the second half, Jordi Alba's cross found Conde, who headed the ball against the crossbar. Ousmane Dembele and Sergi Roberto also had chances to extend Barcelona's lead but were unable to find the back of the net.
Javi's Goal Secures the Win:

In the 70th minute, Javi sealed the victory for Barcelona. Dembele provided an assist, and Javi unleashed a powerful left-footed strike into the far right corner of the goal, extending Barcelona's lead to 3-0.
Farewell to Barca Stars:

The match also marked a heartfelt farewell to two veteran Barcelona players, Sergio Busquets and Jordi Alba, who played their final matches at Camp Nou. Both players will leave the club at the end of the current season.
Conclusion:
Barcelona's farewell night at Camp Nou was filled with joy as they secured a convincing 3-0 victory against Real Mallorca. Ansu Fati's standout performance, including two goals, contributed to the team's success. With the La Liga title already secured, Barcelona continues to demonstrate its dominance in Spanish football. The farewell of Sergio Busquets and Jordi Alba added an emotional touch to the match, as they bid farewell to the iconic stadium.