Argentina Secures Victory over Australia in Beijing Friendly Match
Introduction:
In a friendly match held in Beijing, Argentina triumphed over Australia with a 2-0 scoreline, showcasing their preparation for upcoming matches. Lionel Messi wasted no time, scoring a sensational goal just 80 seconds into the game with a sublime left-footed strike from outside the penalty area. German Pezzella extended Argentina's lead in the 68th minute with a splendid header, assisted by Rodrigo de Paul. This friendly encounter serves as crucial preparation for both teams, with Argentina focusing on the 2026 World Cup qualifiers and Australia gearing up for the Asian Nations Cup.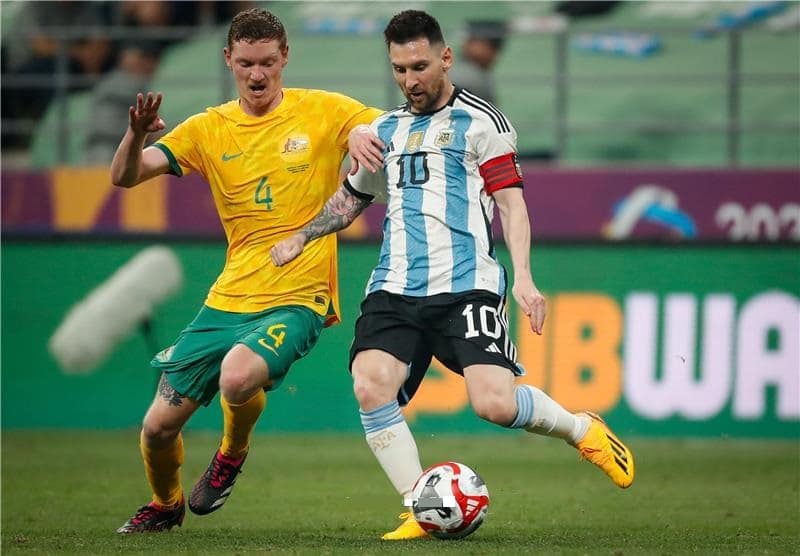 Early Lead by Messi:

Lionel Messi made an immediate impact in the match, breaking the deadlock for Argentina within the first two minutes. With a superb left-footed shot from outside the box, Messi expertly placed the ball beyond the reach of Australian goalkeeper Matthew Ryan, giving the Tango an early advantage.
Pezzella's Header Seals Victory:

The second half witnessed the introduction of German Pezzella, who further bolstered Argentina's lead. In the 68th minute, Pezzella executed a marvelous header, capitalizing on a well-placed cross from Rodrigo de Paul from the left flank. The ball found the net on the left side, leaving the Australian goalkeeper helpless.
Preparations for Future Competitions:

The friendly match served as part of Argentina's preparations following their triumphant World Cup victory in Qatar last year. The focus now shifts to the upcoming 2026 World Cup qualifiers, which will be hosted by the United States, Canada, and Mexico. Argentina will continue their preparations with another friendly match against Indonesia next Monday.
Australia's Path to the Asian Nations Cup:

Meanwhile, the Australian national team is gearing up for the Asian Nations Cup, set to take place in Qatar from January 12 to February 10 next year. Drawn into Group Two alongside Uzbekistan, Syria, and India, Australia aims to replicate its 2015 championship success in the continental competition. The friendly against Argentina provides valuable preparation for their campaign in Doha.
Conclusion:

Argentina's commanding victory over Australia in the Beijing-friendly match demonstrated their readiness for upcoming challenges. Lionel Messi's early goal and German Pezzella's impressive header showcased Argentina's attacking prowess. As both teams continue their preparations, Argentina sets its sights on the 2026 World Cup qualifiers, while Australia gears up for the Asian Nations Cup in Qatar. These matches provide vital opportunities to fine-tune strategies and gauge team performance before the respective competitions.